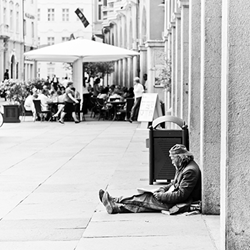 So many in our community are facing homelessness, and we as an agency wanted to do something to improve the situation.
Fairfax, VA (PRWEB) June 13, 2016
Designers Insurance Agency celebrates the beginning of a new charity campaign as part of its ongoing Community Program, now looking to raise funds for Northern Virginia Family Services so they can keep helping those facing homelessness in our local community. The agency announces that those with a heart for supporting the goal of providing a roof over everyone's head can now join the agency's efforts by contributing through the designated donations page at https://give.nvfs.org/.
The agency has set the campaign goal at $500, which they are looking to raise over the next two months with the help of staff, customers, business partners and others. Wally Arcayan, the agency's principal, attested, "So many in our community are facing homelessness, and we as an agency wanted to do something to improve this. Northern Virginia Family Services exists to help those in need, and we are proud to join in their efforts to help everyone have a roof over their heads."
Designers Insurance Agency continues to employ its own resources to ensure the success of their community program. The current campaign is being promoted through the agency's social media channels as well as through their monthly magazine, delivered to thousands of households in the local area. In fact, Our Hometown magazine reserves a full page to feature this worthy cause, including all of its details. The electronic Flipbook version of the current issue can be accessed here: http://www.designersinsuranceagency.com/Our-Hometown-Magazine_44.
Designers Insurance Agency will continue to work with individuals and nonprofits in the area to identify new worthy opportunities to support the community, every 30-90 days. Through the agency's website, any members of the community can also submit information on known families or persons who could use some help – http://www.designersinsuranceagency.com/Submit-A-Community-Cause-Idea_47. Entries are diligently submitted for review, and the elected worthy causes are properly contacted by a representative of Designers' Community Program. More information regarding past and current campaigns can be found at http://www.designersinsuranceagency.com/community-cause.
About Designers Insurance Agency
Designers Insurance Agency has been serving the Fairfax, Gainesville and Herndon area for over 20 years.
Wally Arcayan, owner of Designers Insurance Agency, values the opportunity to guide customers through the many options within the industry, ensuring the best selections for their financial future. Having received the Allstate Financial Leader Award and Honor Ring for 12 years, Wally Arcayan and his staff focus on providing the highest standards of service at all times and in every situation. More information about Designers Insurance Agency can be found at http://designersinsuranceagency.com. To contact an expert at Designers Insurance Agency, call (703) 385.0440.