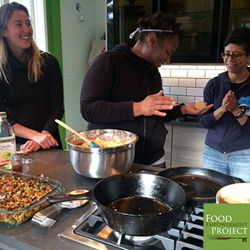 It is important that everyone has access to fresh, healthy food, no matter what their income level is.
San Jose, CA (PRWEB) June 13, 2016
Pinnacle 1 Insurance celebrates the beginning of a new charity campaign as part of its ongoing Community Program, now looking to raise funds for local people on low incomes to be able to make better and informed food choices. In collaboration with the Food Empowerment Project, the agency announces that those with a heart for making sure everyone – regardless of their wealth – is able to make educated food decisions can now join the agency's efforts by contributing through the organization's donations page at https://food-empowerment-project.networkforgood.com/projects/11476-f-e-p.
The Food Empowerment Project seeks to create a more just and sustainable world by recognizing the power of one's food choices. They encourage healthy food choices that reflect a more compassionate society by spotlighting the abuse of animals on farms, the depletion of natural resources, unfair working conditions for produce workers, and the unavailability of healthy foods in low-income areas. FEP also works to discourage negligent corporations from pushing unhealthy foods into low-income areas and empower people to make healthier choices by growing their own fruits and vegetables.
"The Food Empowerment Project wants to empower those in our community who have the fewest resources," Robert Varich, Pinnacle 1 Insurance's principal explains. "It is important that everyone has access to fresh, healthy food, no matter what their income level is. The FEP works with members of our local community to make that dream a reality," he adds.
The agency has set a goal of $500. To achieve that goal, the agency's network of customers, business partners, friends, staff and family are being invited to actively participate by not only contributing financially, but also by helping spread the word to others.
Pinnacle 1 Insurance continues to employ its own resources to ensure the success of their community program. The current campaign is being promoted through the agency's social media channels, email and text message communications, as well as through their monthly magazine, delivered to households in San Jose, Santa Cruz, and Milpitas. In fact, Our Hometown magazine reserves a full page to feature this worthy cause, including all of its details. The electronic Flipbook version of the current issue can be accessed here: http://www.pin1ins.com/Our-Hometown-Magazine_39.
Pinnacle 1 Insurance will continue to work with individuals and nonprofits in the area to identify new worthy opportunities to support the community, every 60 days. Through the agency's website, any members of the community can also submit information on known families or persons who could use some help – http://www.pin1ins.com/Submit-A-Community-Cause-Idea_53. Entries are diligently submitted for review, and the elected worthy causes are properly contacted by a representative of Pinnacle's Community Program. More information regarding past and current campaigns supported by Pinnacle 1 Insurance can be found at http://www.pin1ins.com/community-cause.
About Pinnacle One Insurance
Pinnacle One Insurance's team mission is to provide the best insurance and financial services in the industry. Their number one job is to protect the assets for which their customers have worked so hard, and to help them invest so they may retire in comfort. Pinnacle One's success is measured by customer satisfaction and the added value brought to their lives. To reach the capable and caring agents at Pinnacle One Insurance, please call 408-257-1234.