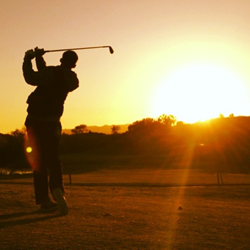 Temecula Valley, CA (PRWEB) June 10, 2016
Celebrate this Father's Day with a getaway in picturesque Temecula Valley Southern California Wine Country. With thrilling activities, delectable dining options, and ideal gifts Temecula Valley offers an experience any father is sure to love. Located just 60 minutes from San Diego, Orange County, and Palm Springs; and 90 minutes from Los Angeles, so much is offered that an overnight stay is recommended at one of the many lodging options ranging from relaxing resorts to comfortable hotels.
Fathers can be treated to a day on the green at Journey at Pechanga. Whether the old man is a pro or swinging his clubs for the first time, this pro shop offers lessons for any skill level. If he is a golf enthusiast, Journey at Pechanga offers an annual golf pass which includes 12 rounds of golf with friends anytime of the year ($899) and is the only pro shop in the area that does custom golf club fittings. Mosey down to historic Old Town Temecula to celebrate a "Hoppy" Father's Day with various craft brews. Try the award winning Mango Hef at Garage Brewing Co. or indulge in handcrafted drinks at 1909. Their most popular selection for Father's Day is the 1909 Cedar Smoked Old Fashioned, a specially crafted take on the classic Old Fashioned drink which is just as much fun to watch being made as it is to consume.
Quality family time can be enjoyed in the growing foodie district, Old Town Temecula. For every meat-loving man, Gambling Cowboy is the perfect choice for a Father's Day dinner. Their Chophouse Classics offer a wide range of delicacies from Lobster Mac & Cheese to Short Rib Bordelaise or try their signature steak, The Gambler. Public House also offers a divine dining experience with their best-selling burger, Kobe Red and Black.
For the perfect Father's Day gift look no further than the charming shops in Old Town. Temecula Olive Oil Company has a special Father's Day Gift Box available which includes Roasted Garlic Olive Oil, Grillin' Salt, Bar-b-que Rub, Bruschetta, Bay Rum Shaving Soap, and Shaving Brush. For the hard-to-shop-for man they have a simpler gift. Their 3-Piece Shaving Kit includes Sandalwood Shaving Soap, Shaving Brush, and a Step-By-Step Guide to getting the best shave using their products. Old Town Spice and Tea Merchants is an excellent place to shop for a BBQ loving father. Their recommended spices include Old Town Mesquite BBQ, Coffee BBQ, 5th Street Steak Rub, Rancho California Rub, and Temecula Steak Rub; all for $3.69 per oz.
Any father is sure to have a memorable Father's Day spent in Temecula Valley Southern California Wine Country. For more information and activities to do this Father's Day, check out VisitTemeculaValley.com.
About Visit Temecula Valley
Visit Temecula Valley is the official tourism marketing organization and resource for visitors in the Temecula Valley Southern California region. The Temecula Hotel Tourism Improvement District is the primary source of funding for Visit Temecula Valley activities and programs. Additional funding is provided through alliances with visitor-serving partners throughout Temecula Valley.
Visit Temecula Valley is online at VisitTemeculaValley.com. The Temecula Valley Visitors Center is located in Downtown, Old Town Temecula (Third Street and Mercedes) adjacent the Old Town Temecula Parking Garage. For visitor information and assistance, please call 888-363-2852 or 951-491-6085.