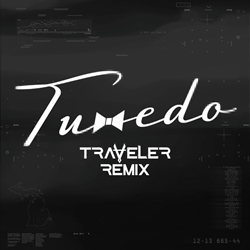 Traveler sprinkles on silvery effects and elevates their remix into a mouthwatering, impossibly groovy tune that's the perfect summertime release.
New York, NY (PRWEB) June 14, 2016
The latest musical sensation to hit the airwaves this season might just be the DJ/production duo known as Traveler. Following the online success of their remixes of Queen & David Bowie's "Under Pressure" and Ashanti's "Foolish," Traveler turn their talents to Tuxedo's feel-good summer jam, "Do It" (Traveler Music/Stones Throw Records). The Traveler Remix of "Do It" is out now.
The original version of "Do It" is a major-key, feel-good song with a throwback sensibility. Traveler takes the song and slows the tempo down 'til it oozes like sweet molasses and then adds a thick, low 4/4 beat to it. The result is a truly superb remix that pumps up the street-party vibe with Traveler's spine-tingling production. Traveler utilizes soaring synthesizers to support the bouncy effervescence of the original while manipulating the deep-throated male vocal into a stuttered, percussive pattern. Traveler throws the kill-switch on the instrumentals, drops a dope live drum flourish and then…boom! The chorus hits with a creamy, weighty groove. The Traveler Remix maintains the integrity of the original, distilling and augmenting its best elements. Traveler sprinkles on silvery effects and elevates their remix into a mouthwatering, impossibly groovy tune that's the perfect summertime release. Touches like a carefully placed sub-bass make the Traveler Remix dynamic and fully danceable.
Traveler (aka Zander and Peitzke) is an American live-music/DJ hybrid act consisting of guitar, percussion and keyboards in its live shows. Unlike traditional DJ performances, Traveler's shows consist of entirely their own original music and their performances aim to take listeners on a journey of emotion through sound and cutting-edge visuals. Established in 2010, Traveler has opened for major headlining acts such as Flume, Seven Lions, Duke Dumont, Odesza, Autograf, Emancipator and many more. What sets Traveler apart is that the group straddles the worlds of live music and clubland with its unique performance setup. Zander of Traveler has performed at key festivals including, Electric Daisy Carnival (EDC) in Las Vegas; Beyond Wonderland in San Bernardino; Lucidity Festival in Santa Barbara; and Envision Festival in Costa Rica, as well as at nightclubs like Avalon in Los Angeles. Traveler has performed live alongside Pretty Lights, Bob Moses, Lee Burridge and others.
Tuxedo consists of GRAMMY® nominated artists Mayer Hawthorne (Aquarius) and Jake One (Taurus) who take their single-word alias from the tradition of funk music luminaries like Chic, Shalamar, Plush and Zapp. The Tuxedo collaboration began in 2006 with an exchange of mixtapes. In between Hawthorne's solo albums and One's productions for Drake, Fun, J. Cole and others, the original three Tuxedo tracks leaked to the Internet eventually became a full album's worth of music.
Said Zander of Traveler's decision to remix "Do It," "When Peitzke and I first heard the original song, we were instantly grabbed by how joyful and life-affirming it sounded and we loved the vocals and lyrics. The message is so simple yet so universal. We're super stoked that Tuxedo's management approved our remix as an official remix!"
Listen to Tuxedo, "Do It" (Traveler Remix), here: https://soundcloud.com/travelermusic/tuxedo-do-it-traveler-remix
For more information on Traveler, RedOne, Andrew Rayel, MaRLo, Giuseppe Ottaviani, Josh Bernstein, Lil Nate Dogg, Underground Sol and artists like Armin van Buuren contact EMILY TAN Media Relations (U.S.), +1(917) 318-3758, EmilyEmilyTan(at)aol(dot)com. Follow EMILY TAN Media Relations on Twitter @EmilyEmilyTan and LinkedIn http://www.linkedin.com/pub/emily-tan/4/342/70b.
# # #