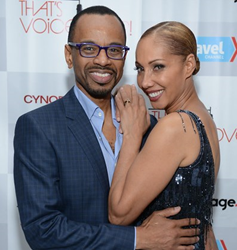 It's our intention to shine a spotlight on talent at the microphone, as well as the content creators who develop the messages, and the producers and editors who add their own unique voices. Rudy Gaskins
New York, NY (PRWEB) June 10, 2016
The Society of Voice Arts and Sciences (SOVAS™) is proud to announce they have received a special recognition from HEAR Now, one of the performing community's pre-eminent organizations. HEAR Now is dedicated to contemporary audio story-telling in all its forms. SOVAS™ CEO Rudy Gaskins, and Chief Communications Officer Joan Baker, will receive this award at the HEAR Now Festival on Sunday, June 12, 2016, in Kansas City, MO. HEAR Now, presented by The National Audio Theater Festivals, is the champion of live and scripted solo performances, multi-voiced performance, classic radio drama, experimental narrative, and much many more expressions of vocal talent. This weekend, they honor SOVAS™ for Outstanding Innovation in Support of Narrators and Spoken Word Artists.
"We're honored that HEAR Now is recognizing our creation of the That's Voiceover!™ conference and the Voice Arts® Awards formal ceremony, as part of an international initiative that's galvanizing the industry and raising the profile of the voice acting craft," says SOVAS™ CEO Rudy Gaskins. "It's our intention to shine a spotlight on talent at the microphone, as well as the content creators who develop the messages, and the producers and editors who add their own unique voices."
Joan Baker, Chief Communications Officer adds, "The world's best voice artists, writers and producers are overjoyed that voice industry career events and recognition programs, like SOVAS™, and festivals like HEAR Now, finally have come into existence to credibly and formally acknowledge and applaud top tier voiceover, narration and spoken word performance."
Sue Zizza, President and Co-chair of the National Audio Theatre Festivals says, "SOVAS™ is creating new opportunities for the entire industry and influencing the entire voice acting community in dynamic ways. We are thrilled to honor them with this award."
For more information about SOVAS™, visit http://www.sovas.org . For more information about the event, go to http://www.hearnowfestival.org
About the SOCIETY of VOICE ARTS® and SCIENCES
The Society of Voice Arts and Sciences™ (SOVAS™) is an organization that oversees several programs that connects aspiring voice artists to sources of training, education, mentoring and employment opportunities. SOVAS™ acknowledges voiceover excellence through an annual international event and ongoing scholarships. One such program is THAT'S VOICEOVER!™ which ties together the multifaceted and multi-billion dollar global industry of voiceover acting across all media: film, TV, toys, video games, audiobooks and robotics. In addition, there's the VOICE ARTS® AWARDS - an international awards competition. The open competition features numerous categories and is voted upon by award-winning experts from the various disciplines that constitute the entry categories. Award Entries are now open at http://www.voicearts.org. Tickets for upcoming SOVAS™ events are also available.
Purpose of SOVAS™
The purpose of the SOVAS™ is to provide educational training, job creation and international acknowledgement related to the extraordinary skill and artistry of voiceover acting and associated industry professions. SOVAS™ encourages a best-in-class standard of achievement to which the voiceover industry can continually aspire. The VOICE ARTS® AWARDS honors and acknowledges the voice actors, creative directors, copywriters, casting directors, talent agents, directors, producers, audio engineers, account executives, equipment manufacturers, podcasters, and others who create and sustain excellence within the voiceover industry. The Society Of Voice Arts And Sciences™ (SOVAS™), is a non-profit 501(c)3 corporation. Donations are encouraged.
Contact
Judi Durand, DAJDPR, 703-725-6017 (m) / Daryl Williams, DAJDPR, 646-373-6736 (m)