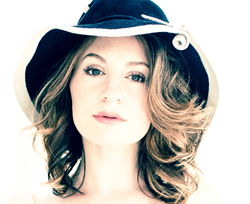 Says Chrissi: "I was burnt out on doing the same things…I didn't know where to turn next…I needed to shake things up."
(PRWEB) June 13, 2016
Joe's Pub at The Public Theater in NYC is the place to be on June 22 when Chrissi Poland officially releases her new album, Waking Hour. The album was co-produced by Chrissi and industry veteran Jamie Siegel – who has also collaborated with Joss Stone, Lauren Hill, Blondie and Sting.
Waking Hour is the follow-up to Chrissi's 2013 EP release, Reckless Ones. While Reckless Ones had a more electro-pop feel, Waking Hour offers a more organic and modern soulful sound. The album benefits from an array of collaborations with top-tier musicians including Will Lee on bass, Matt Beck on guitars and Eugene Lake on drums. Chrissi has truly actualized her writing and production skills on Waking Hour; the songs have drawn comparisons to the writing of Carole King. The album has been described as "Amy Winehouse meets Joan Osborne."
Following a rewarding few years touring with ScissorSisters as a vocalist, Chrissi was reluctant to go back to the NYC grind. Says Chrissi: "I was burnt out on doing the same things…I didn't know where to turn next…I needed to shake things up." Completed in March 2016, Chrissi wrote most of Waking Hour while in Las Vegas performing in a pop/theatrical show. Drawing on a period of anxiety and confusion, and inspired by the beauty and stillness of the vast desert landscape, Waking Hour was truly a labor of love. Waking Hour is an album about change and renewal, about shedding one stage of life for another while still holding on to the shadows of the past. Songs like "Lonely Light" and "Far From Love" explore rich human themes, like our struggle to be comfortable with the unknown and the importance of connection, love and understanding.
In February, 2016, Chrissi released a music video for her song "Shaky Man." Infused with soulful guitars, an infectious hook and a playful, teasing groove, "Shaky Man" is for all the lovers out there who have experienced times of doubt and unsteadiness having to deal with their partners' "crazy." Check out the video for a taste of Chrissi's unique sound and style - (https://www.youtube.com/watch?v=QMlAW0eVS3I).
Since completing the album, Chrissi has been touring the globe performing for her fans in Germany, the UK, the Caribbean and around the US. Waking Hour even earned Chrissi "Artist of the Month" across 900 coffee shops in the UK!
Fans and professionals alike are abuzz about the album and it's creator: "Poland dishes out plenty of attitude. She crafts original tunes that harness soul, rhythm, blues and rock. And she wraps it up in reflective lyrics that give the music thrust and momentum without sacrificing any tenderness." "She is a dream girl who will surprise you with her soulful power."
Come hear for yourself on Wednesday, June 22 at Joe's Pub. It's a warm, soulful venue that oozes with the talent and passion of all the musicians who have graced its stage, from Adele to Dolly Parton to David Byrne. And soon, Chrissi Poland will join those ranks when she opens her soul and shares the deep meaning and soulful music of Waking Hour.
TRACKS: All songs written by Chrissi Poland.
Dawn
Why Lie?
Shaky Man
Silhouette
Lonely Light
Angel Weep for Me
Airplane
Far From Love
WHERE: Joe's Pub
The Public Theater
425 Lafayette Street
New York, NY 10003
WHEN: Wednesday, June 22, 2016 at 7:30 p.m.
INFO: Tickets available at: http://joespub.publictheater.org/en/tickets/calendar/playdetailscollection/joes-pub/2016/c/chrissi-poland/?SiteTheme=JoesPub
ABOUT CHRISSI POLAND:
Born and raised in southern Massachusetts, Chrissi started out playing bars and clubs in and around Boston, then soon after moved to New York City and began playing shows in the West Village underground scene. She quickly made a name for herself in New York, and within a few years began touring the world with her own work as well as with other artists.
As a multi-instrumentalist and in-demand vocalist, Chrissi has worked and performed with an array of artists and icons including Nile Rodgers, Macy Gray, Sting, Moby, Bette Midler, ScissorSisters, The Edge and legendary Stax "Soul Man" Sam Moore (Same & Dave) who declares of Chrissi, "Now, this is a girl you GOT to hear!"!
http://www.chrissipoland.com
https://www.facebook.com/chrissipoland
https://soundcloud.com/chrissipoland
https://search.itunes.apple.com/WebObjects/MZContentLink.woa/wa/link?path=chrissipoland