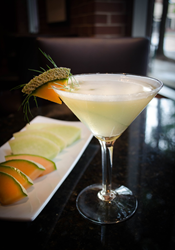 "In recent years, apples and other fruit became popular," says Tom Garcia, Benchmark Hospitality's vice president food & beverage. "Now, everyone is experimenting with new ingredients and our guests are drinking them up!"
The Woodlands (Houston) , Texas (PRWEB) June 13, 2016
"A dry Martini is not a hooker of gin!" So goes the legendary ad by the makers of Noilly Prat Vermouth, created by The New Yorker cartoonist Peter Arno. The ad was developed in the 1960s when the classic cocktail was in danger of becoming too dry to support even a whiff of vermouth. Few drinks have inspired such debate. Shaken or stirred? On the rocks or straight up? How much vermouth? Olives or onions as garnish? Or perhaps a lemon twist?
Literary lions penned its praises, bootleggers brought it to new highs with cheap Prohibition era gin. Movie stars sipped it on screen and off. In the Broadway show How to Succeed in Business Without Really Trying, executives sang of the "slam-bang tang reminiscent of gin and vermouth."
The classic cocktail continues to evolve as creative mixologists devise enticing new versions that span sprits from gin and vodka to rum and Bourbon. Additions can now include pomegranate, apples, pears and even expresso. Inspired new garnishes range from watermelon, blackberries and herbs to rosebuds.
"In recent years, apples and other fruit became popular," says Tom Garcia, Benchmark Hospitality's vice president food & beverage. "Now, everyone is experimenting with new ingredients and our guests are drinking them up!" Even James Bond, the arbiter of the ideal Martini, has taken his libation to new levels. In his last film, Spectre, 007, he switched from his customary Vesper Martini with a twist of lemon to a Dirty Martini consisting of vodka, dry vermouth, a muddled Sicilian green olive, and a splash of the olive's brine.
Garcia also notes that National Martini Day coincides with Father's Day this year. What better way to celebrate dad than with one of these marvelous Martinis from the bars and restaurants at Benchmark Resorts & Hotels® and Personal Luxury Resorts & Hotels® brand properties.
Intoxicating Martinis from Benchmark Resorts & Hotels properties
Turtle Bay Resort, Oahu, HI
Oahu's fabled North Shore resort!
21 North Martini
Stoli Vanilla ( infused w/ coconut & pineapple)
To make:
1 bott. Stoli Vodka
1 pineapple cut into chunks
½ c. coconut flakes
Infuse for 48 hours minimum
Shake and strain into martini glass
Garnish with pineapple slice
Chaminade Resort & Spa, Santa Cruz, CA
This spectacular resort is set within 300 acres on a mountaintop overlooking Monterey Bay.
Black Pearl
1.5 oz Bulleit Bourbon
.5oz Blackberry Puree
½ lime juice
Top with ginger beer
Doral Arrowwood Resort, Rye Brook (Westchester County), NY
The New York City metro area's Top Resort for leisure travel, golf, events and special occasions.
Cucumber House Grown Parsley Pomegranate Martini
1.25 oz. Nolet's Silver Dry Gin
1 oz. Simple Syrup
1 oz. Lemon Juice
1 oz. Pomegranate Juice
8 House Grown Parsley Leaves
Fresh Pomegranate Seeds
Muddle one slice of Cucumber and eight fresh parsley leaves, pomegranate seeds, Lemon and Pomegranate Juices in a martini glass. Fill glass with Ice and add Nolet's Silver Dry Gin. Stir Well.
Garnish with a slice of fresh cucumber and a sprig of house grown parsley and pomegranate seeds in the bottom of the glass.
The Heldrich Hotel, New Brunswick, NJ
Urban luxury in New Jersey's noted Healthcare City, The Heldrich is a favorite hotel of major pharmaceutical headquarters and visitors to Rutgers University.
The Scarlet-ini
Scarlet-ini (in honor of the Rutgers University Scarlet Knights)
1.5 Oz Ketel One Vodka
1.5 Oz Cranberry Juice
.5 Oz Cointreau
Combine over ice, shake, pour into martini glass and garnish with a twist of lemon
Eaglewood Resort & Spa, Chicago, IL
Chicagoland's top resort, Eaglewood offers great golf, a superb spa and topnotch hospitality.
Peres Poire-Tini
Peres means "Fathers" in French, it is also a play on the fact that it's a pear martini.
2 Fresh Wedges of Asian Pear
1 ½o z Grey Goose La Poire Vodka
½ oz Saint Germaine Elder Flower Liquor
½ oz Simple Syrup
Squeeze of Lime
Splash of Apple Juice
Muddle the Asian pear in a Martini shaker along with the Grey Goose La Poire, add ice and combine the rest of ingredients. Shake vigorously. Garnish with slice of Asian pear and lime zest.
Hotel Contessa, San Antonio, TX
Set on San Antonio's fabled Riverwalk, this charming boutique hotel offers a Mediterranean ambiance and stunning river views.
Hemingway Martini
1 ¼ oz Bacardi Rum
½ oz Cointreau
1 oz Grapefruit Juice
½ oz Lime Juice
½ oz Simple Syrup
Garnish with grapefruit wedge & lime twist
Hotel Roanoke, Roanoke, VA
A landmark and legend in the Blue Ridge Mountains, this historic hotel in the Shenandoah Valley has been restored to its turn-of-the-century splendor and Southern charm.
Through Rose-Colored Glasses Martini
1 1/2 oz. Barr Hill gin infused with culinary rose buds
3/4 oz. house cucumber vermouth, made with herbs from the Chef's garden
1/2 oz. fresh-squeezed lemon juice
1/2 oz. simple syrup
3 dashes Scrappy's grapefruit bitters
Santa Barbara Beach & Golf Resort, Curaçao
Green Silhouette
Tools: Boston & Muddler Technique: Shake & Strain
0.75oz Blue Curacao
0.75oz Orange Curacao
1.5oz Tequila
0.25oz Passion Fruit Juice
Garnish Lemon wheel
Process Mix all ingredients in Shaker, Shake and Strain
Cheyenne Mountain Resort, Colorado Springs, CO
Toasted S'mores Martini
1 ½ ounces of SMIRNOFF® Fluffed Marshmallow Vodka
½ ounce of GODIVA® Dark Chocolate Liqueur
½ ounce GODIVA® White Chocolate Liqueur
Chocolate Sauce
Graham Cracker Crumbs
In a shaker cup of ice, combine the vodka and liqueurs
Slightly rim martini glass with chocolate sauce
Dip rim of glass in graham cracker crumbs
Drizzle chocolate sauce in the inside of the martini glass
Strain martini mixture into glass
Garnish with a toasted large marshmallow on a skewer
Snow King Hotel, Haydens Post restaurant, Jackson, WY
Wyoming's state flower is the Indian Paintbrush, which is vibrant, wild and beautiful, much like the state itself. In its honor, Haydens Post chief mixologist John-Mark Roufs created the Indian Paintbrush Cosmopolitan.
The Indian Paintbrush Cosmopolitan
1.5 oz 44 North Nectarine Vodka
.5 oz Grand Marnier Raspberry Peach
Fresh Squeezed orange juice
House made grenadine
Combine/Shake/Strain into chilled Martini glass.
Garnish with orange slice & cherry.
Deloitte University, Dallas, TX
5 Boroughs Martini
2 oz Whistle Pig Rye
1 oz Lillet Rouge
1 oz Chai Tea Infused Carpano Antica Vermouth
2 Dashes Dead Rabbit Oronoco Bitters
Orange Peel
Combine the rye, Lillet, vermouth & bitters in a mixing glass and stir with several large cubes of ice. Strain into martini glass, or Nick & Nora if you are feeling more of a Mad Men vibe. Flame orange peel over the top. This garnish works really well with the subtle chai nuance found in the vermouth.
Chai Tea Infused Carpano Antica
3 Tablespoons Chai Tea (Suggest Art of Tea)
1 Liter Carpano Antica
Add chai tea to the vermouth and let stand for 30 minutes. Strain through a chinois or fine mesh sieve and refrigerate.
Note: All vermouth should be refrigerated once opened as they tend oxidize quickly.
The Chattanoogan Hotel, Chattanooga, TN
Juniper Melon Martini
2 oz Hendrick's Gin
¼ oz Melon Shrub
½ bar spoon of honey
1 egg white
4 fennel sprigs
1 drop of Orange Bitters
Shake & strain
Garnish with a melon wedge
Shaken or Stirred, Martinis from Personal Luxury Resorts & Hotels properties
Hotel Zelos San Francisco, Dirty Habit Bar, San Francisco, CA
Superb martini recipe from bartender Raul Ayala at Dirty Habit - a great riff on a vesper with lots of citrus, herb and summer stone fruit notes!
Spectre Martini
1 oz. Spring 44 Gin
1 oz. Skyy Vodka
1 oz. Montifaud Pineau des Charentes Blanc infused with dried apricot, rosemary & summer savory
2 dashes orange bitters
Garnished with a lemon twist and rosemary sprig.
Costa d'Este Beach Resort & Spa, Vero Beach, FL
A refreshing martini for a smoldering summer day, ideal for lounging at the newly-redesigned pool deck or under the shade of a beach cabana, at this Miami-modern retreat owned by international superstars, Emilio and Gloria Estefan.
Bourbon Berry Royale
2 oz Bulleit Bourbon
½ oz Blackberry Brandy
2 oz Fresh Lemonade
Splash of Simple Syrup
3 Fresh Blackberries
2 Wedges of Lemon
Muddle lemon, blackberries and simple syrup together
Add bourbon, blackberry brandy and lemonade
Shake and strain into chilled martini glass
Garnish with a fresh lemon wedge and blackberry skewer
Willows Lodge, Fireside Lounge, Woodinville, WA
While Willows Lodge is nestled in the heart of Woodinville Wine Country near Seattle, the most popular drink on its Fireside Lounge menu for locals and guests alike is the Fireside Sidecar Martini.
Fireside Car Martini
A collaboration of Fireside's mixologists and guest requests, which has quickly has become one of the most popular and consistently requested drinks.
2 ounces house infused chai vodka
.5 ounce Combier Orange Liqueur
1 ounce fresh sweet & sour
1 each muddled lime, orange, and lemon wedge
Muddle fruit, combine spirits, shake vigorously with ice, strain in a martini shell, finish with orange zest
Villas of Grand Cypress, Orlando, FL
Florida Cypress Martini
2 oz Absolut Manderin
2 oz Absolut citron
1 oz fresh squeeze orange juice
1 oz Grand Mariner
1 oz agave nectar
Place all ingredients in the shaker full of ice.
Shake very well.
Put into chilled sugar rimed glass.
Sugar and orange zest rim.
Marenas Beach Resort, Sunny Isles Beach (Miami), FL
The Boulevardier Martini
1.5oz Basil Hayden's Bourbon
3/4oz Sweet Vermouth
3/4oz Campari
Stirred with ice (40 stirs without breaking the ice cubes is the sweet spot)
Strain into a coupe
Garnish with an orange peel (twist the peel over the glass to release the zest, and then lay on the side of the glass)
Inn at Rancho Santa Fe, Rancho Santa Fe (San Diego), CA
Peachy Oldè Thyme Martini
New Amsterdam Gin
1 cup fresh peaches
In a 16 oz. mason jar, slice peaches and place into jar.
Fill the rest of the mason jar with New Amsterdam gin
and seal.
Let infuse for one week.
Once infused, strain gin from the jar. Set aside.
Thyme Infused Simple Syrup
Ingredients:
1 c. white sugar
1 c. water
2 sprigs thyme
In a medium medium saucepan, combine sugar, water and thyme. Bring to a boil, stirring, until sugar has dissolved. Allow to cool.
Peachy Oldè Thyme Martini
1 ½ oz. peach infused New Amsterdam Gin
¾ oz. elder flower liqueur
½ oz. thyme infused simple syrup
½ oz. lime juice
peach garnish
sprig of thyme
edible flowers
In a mixing glass, combine peach infused New Amsterdam gin, Elder Flower liqueur, thyme infused simple syrup and lime juice. Shake until mixed. Pour into a chilled martini glass and garnish with peach, a sprig of thyme and edible flowers.
About Personal Luxury Resorts & Hotels®
Personal Luxury Resorts & Hotels® includes unique hand-picked properties in spectacular U.S. destinations coast to coast. Each hotel and resort delivers personal luxury in a spirit true to its own distinctive locale, yet in keeping with the collection's shared mission. They represent a select portfolio of Benchmark Hospitality International®, which has been a leading US-based hospitality management company for over 30 years. Personal Luxury Resorts & Hotels is the preferred choice of guests who yearn for transformation over accommodation, customization over conformity, and inspiration over predictability. With Personal Luxury Resorts & Hotels, luxury is always personal. http://www.personalluxuryresortsandhotels.com. To become a fan on Facebook, visit http://www.facebook.com/PersonalLuxuryResortsandHotels, or follow us on Twitter at http://www.twitter.com/PersLuxResorts.
About Benchmark Resorts & Hotels®
Benchmark Resorts & Hotels® represents the finest in lodging, dining, recreational and meeting accommodations. Many are certified by the International Association of Conference Centres, the leading professional organization governing the multi-billion dollar conference center industry on five continents, and many have also been recognized with the coveted Benchmark Conference Centers® certification of meeting excellence. Benchmark Resorts & Hotels deliver highly specialized service that anticipates guests' needs and ensures a hospitality experience unsurpassed and long remembered. http://www.benchmarkresortsandhotels.com. To become a fan on Facebook, visit http://www.facebook.com/BenchmarkResortsandHotels, or follow us on Twitter at http://www.twitter.com/BenchmarkHotels.
# # #
Media Contacts:
Ken Ellens
KEN ELLENS COMMUNICATIONS
201-758-2864 / KenEllens(at)aol(dot)com
Kirsten Andresen
Regional Director of Public Relations
206-427-5482 / kandresen(at)usa-bhi(dot)com
Jessica Milton
Regional Director of Public Relations
786-714-6268 / jmilton(at)usa-bhi(dot)com