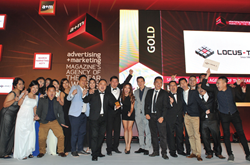 Petaling Jaya, Selangor (PRWEB) June 24, 2016
LOCUS-T Online clinched the gold award this year, along with the Local Hero title once again. LOCUS-T Online understands that search marketing is very results-driven, and the quality of work defines itself.
To maintain its market position, amid a challenging market landscape, 2015 saw the agency drive its business direction towards company growth.
The agency retained all of its key clients such as Allianz Bank, Watsons, Sunway Property, Club Med, Zouk and Chevrolet.
Clients such as Triways Travel Network and Camware International have also been with LOCUS-T Online for more than 10 years.
As a Google Premier SME Partner, LOCUS-T Online was hand-picked by Google Asia Pacific to empower, nurture and grows Malaysia's SMEs to adopt digitalisation.
With few SMEs in Malaysia being online, the market has high potential for growth, which gives the agency a great outlook for 2016.
Working closely with Google and Yahoo for more than six years has enhanced the agency's understanding towards international and local digital trends, search engine technology, dynamic consumer behaviour, industry insight and various beta testing.
Combined with its 17 years of local expertise and experiences with handling numerous clients from various industries, it has become a credible search engine knowledge hub. Differentiating itself from the competition, LOCUS-T Online offers a money back guarantee to clients if it does not rank clients' websites well on the search result.
Looking at Malaysia's uphill digital trend, LOCUS-T Online also no longer offers a guaranteed number of keywords; in fact, it is unlimited, to best meet different business needs and expectations of clients. The agency also ranks clients' websites internationally to help brand expansion beyond Malaysia.
LOCUS-T Online believes everyone plays a prominent role in the company's success, making a point to reward staff deservingly.
Besides monthly sales incentives and annual performance bonuses, the agency created a quarterly bonus to reward its entire staff as an appreciation towards their contribution to business growth.
Joseph Ting, CEO and co-founder, said: "With the utilisation of search marketing, it enables businesses to rely lesser on its sales force, resulting in more precious time to focus on expanding and growing their business instead. It is a joy to see fellow clients excel with their business, as it reflects the impact of our quality services."
ABOUT LOCUS-T ONLINE SDN BHD
LOCUS-T Online Sdn Bhd ("LOCUS-T" or the "Company") is an Award Winning Internet Marketing Agency in Malaysia and Singapore. Armed with 17 years of experience, the Company provides professional Internet Marketing Strategic Solutions as well as B2B Marketplace, Web Development, and Google Adwords services to over 2000 clients. Its services are ISO 9001 Quality Management System certified and the Company is the first homegrown Internet Marketing Agency in Malaysia which has earned the respected statuses of Google Premier SME Partner, Alibaba.com Authorised Partner, Baidu Exclusive Strategic Partner and Yahoo! Search Marketing (SEA) Authorised Reseller.