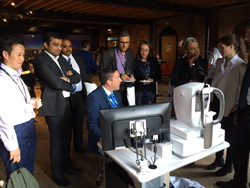 Harlow, Essex (PRWEB UK) 10 June 2016
Haag-Streit UK, the leading manufacturer and distributor of gold-standard optometry and ophthalmic equipment, hosted a successful OCT-Angiography (OCT-A) Evening Meeting at Austin Court in Birmingham on Monday 23rd May. The meeting, scheduled to coincide with the Royal College of Ophthalmologists (RCO) Annual Congress Retina Day, was well-attended with some fifty delegates eager to hear an expert faculty describe the latest developments in OCT-A.
Delegates were given the opportunity to have some hands-on experience with the AngioVue system before the lectures began. The meeting was chaired by Grant Duncan, HS-UK's Clinical Training Manager.
The programme started with a talk about the development of OCT-A technology and a comparison with dye-based angiography, which was delivered by Professor Adnan Tufail, Consultant Surgeon at Moorfields Eye Hospital. Professor Tufail described the theory behind OCT-A, with particular focus on Split-Spectrum Amplitude Decorrelation Angiography (SSADA) before outlining both the advantages and the current limitations of the technology.
Dr Cathy Egan, Consultant Ophthalmologist at Moorfields Eye Hospital, then spoke about the application of OCT-A in diabetic retinopathy. Dr Egan began by asserting that OCT-A is poised to become a key tool in the management of diabetic retinopathy and other small vessel diseases of the retina, before presenting several case studies.
The lecture concluded with a brief look to the future applications of OCT-A technology, citing anterior segment vascular imaging, corneal imaging and glaucoma as areas likely to benefit from imminent advances in the technique.
Dr Clare Bailey, Consultant Ophthalmologist and Clinical Director of the Retinal Treatment & Research Unit at Bristol Eye Unit continued the theme of clinical applications of OCT-A by presenting further case studies, including more diabetic retinopathy, APMPPE and Macular Telangiectasia (MacTel).
Serge Pierrache, European Director of Optovue, concluded a fantastic meeting by describing the latest developments in the AngioVue system. This included a talk on AngioAnalytics and the newly-developed DualTrac™ Motion Correction technology, which further reduces motion artefacts in images. He also introduced AngioVue Retina, a new configuration created for retina practices which combines functional OCT-Angiography (OCT-A) with structural OCT retina scans.
For more information on HS-UK's OCT portfolio, please visit http://www.haagstreituk.com/optovue or call (01279) 883807.