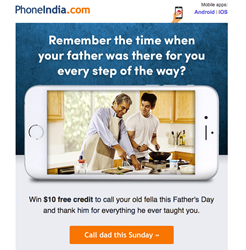 I started using Phone India in 2008 in US, to call India. And now I'm using KeepCalling phone app, it is the best among many available ones. (Praveen Sain)
Atlanta, Georgia (PRWEB) June 14, 2016
Indians worldwide can get 806 free minutes to call mobiles and landlines in India if they join the contest launched by PhoneIndia.com on Facebook. The contest starts on June 14 and lasts until June 16, 2016. Besides the fun competition, PhoneIndia.com Facebook community will host touchy photos and videos dedicated to the relationship children-fathers, especially created for the page fans, Indian expats and all PhoneIndia.com customers: https://www.facebook.com/PhoneIndia/
The prize of the Facebook contest around Father's Day will be decided randomly, using an online tool. Anyone who wants to participate in the contest is invited to answer a simple question in a comment: what did one learn from one's father. The answer is expected on Tuesday, June 14, as a comment to the video that PhoneIndia.com will share on that day on Facebook: https://www.facebook.com/PhoneIndia/
The prize consists of 806 minutes to call any phone in India (mobiles and landlines) with PhoneIndia.com. The gift balance never expires, which is an advantage of the Voice Credit service PhoneIndia.com offers, generally speaking.
Besides the contest, PhoneIndia.com created a most touchy video for all expats, that will be shared on PhoneIndia.com fan page. It depicts small things a father does that turn into key moments for the child's existence. The video is a way to celebrate the positive impact of fathers in one's life, his role in child development and the family heritage he leaves when it comes to real life lessons.
The Facebook prize is a good occasion to save $10 Voice Credit on international calls to India. Otherwise, the regular rate to call India is 1.24¢/minute.
The lowest rate on the global market is 0.6¢/minute. This is available with one of the 3 flexible monthly plans on PhoneIndia.com. These plans include 600, 1400 or 3300 minutes a month to both landlines and mobiles in India.
Despite a calling card, PhoneIndia.com virtual card offers 3 different ways to call India and other international destinations. Whether someone uses Voice Credit or any of the calling plans, these 3 calling methods are complementary:

KeepCalling app is free to install and uses all phone contacts. It imports all the functions of PhoneIndia.com, and only requires 3G, 4G or WiFi access to help one make one click-call.
Calling through access numbers allows one to make calls without any Internet connection. This is possible anywhere, in the street, in the office, at home, using any phone, not only a smartphone.
Web Call is a desktop app, available in one's account by default. It helps one make calls from PC to phone, any phone, from old school ones to smartphones and landlines. No download is needed.
To redeem the prize of the Facebook contest around Father's Day, one needs to open or have an account on PhoneIndia.com. The account costs nothing and comes with a number of other advantages:

There are 4 free features that can optimise a call.
Customers have direct access to calling records.
All transactions and invoices are available online.
Any transaction (Voice Credit, Monthly Plans or Mobile Recharge) brings Thank You points automatically; these points can be easily converted into gift calling credit once they amount to 1000.
Several payment methods are available for different types of customers: all major cards and PayPal.
The account is mobile-friendly, just like the rest of the website, so anyone can access it on the go.
Payment is welcome in any currency.
Promotions, contests and other events are available on Facebook for all fans or by email, once subscribed to the Newsletter ("Get offers" button in the footer of PhoneIndia.com)
PhoneIndia.com is a website dedicated to the Indian diaspora. The website is a brand of KeepCalling, a global telecommunications company registered in 2002 in the USA. Presently, KeepCalling provides its services to hundreds of thousands of consumers and businesses, with a focus on customer satisfaction. KeepCalling has been listed by Inc 5000 as one of the fastest growing companies in the USA for 5 consecutive years. In 2015 the company registered a revenue increase of over 200% from 2011 to 2014.