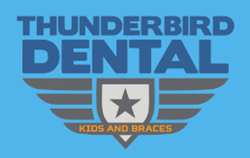 Las Vegas, NV (PRWEB) June 10, 2016
Young patients with crooked teeth can now visit Dr. J. Eric Davis and the Thunderbird Dental team, to receive orthodontics in Las Vegas, NV, without a referral from another doctor. As a trusted orthodontist with a state-of-the-art practice, Dr. Davis utilizes some of the most cutting-edge techniques and procedures to straighten teeth quickly and efficiently.
Dr. Davis encourages parents to schedule an appointment for their children for an orthodontic screening by the time they reach age seven. Children who visit a pediatric dentist to receive orthodontics in Las Vegas, NV at an early age may need fewer orthodontic treatments later in life. Many orthodontic experts agree that the best time to receive orthodontic treatment is early in life, while the jaw is still growing and the teeth are still developing and moving into their normal places. During this time, treatment may take less time and more efficient than it would be if the same patient opted to receive treatment later on in life. Dr. Davis offers a variety of orthodontic services to young patients, including invisible clear aligners, standard braces and special appliances including palatal expanders and space maintainers.
Parents with children younger than seven are still encouraged to bring them in for an orthodontic consultation. Even if children are too young to receive treatment, Dr. Davis can monitor the growth patterns of the child's teeth in order to develop an effective treatment plan that can be implemented in later on. When the teeth are monitored closely during growth, future problems may be avoided and more efficient orthodontic treatment plans may be developed.
Thunderbird Dental is conveniently located just five miles away from the U.S. Airforce Base. This location makes Thunderbird Dental the ideal location for families who need orthodontics in Las Vegas, NV, and are located on, or near the base. Dr. Davis invites all patients looking for a kind and experienced orthodontist to schedule an appointment at Thunderbird Dental by calling 702-545-0055.
About the Practice
Thunderbird Dental is a pediatric dental office providing personalized dental care to patients in Las Vegas, NV. Dr. Dawn McClellan, Dr. J. Eric Davis and the entire team at Thunderbird Dental, pride themselves in offering a variety of services to patients with the latest technology at their new state-of-the-art facility. Dr. McClellan is a world-renowned pediatric dentist whose experienced care has reached around the world through her service as a commissioned officer in the United States Public Health Services, to becoming a co-founder of Dental Care International (DCI), a non-profit organization spreading dental health education. To learn more about Thunderbird Dental or the many services they offer, please visit http://www.thunderbirddental.com or call (702) 545-0055 to schedule an appointment.