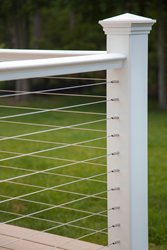 Virtually unobstructed views with a sleek, sophisticated look.
Galloway Township, NJ (PRWEB) June 11, 2016
RDI announces the release of its new cable railing, designed to work with RDI's Transform® railing line. This new style offers easy installation, durability, weather-proof components, and is available in all 4 Transform colors; Satin White, Caramel, Wheat and Ironstone. Transform Cable Rail is expected to be available for shipping mid-June.
According to Jay Penney, Director of Sales for RDI, "We are increasing efforts to interact with our RDI Pro Contractors and one thing that we have heard is the increasing demand for cable railing. As a result, we have developed our own system, employing our "keep it simple" philosophy. Penney adds that some key features of this system include corrosion & weather-resistant stainless steel components, stretch-resistant cable, and innovative, easy install fittings. "We have simplified cable on stairs, with a unique, hinged fitting, which allows the installer to install the cable without the need to drill the posts at the stair angle. Also, our cable railings can be installed either with or without a bottom rail."
According to RDI, ordering Transform Cable Rail is simple and only requires choosing a Transform beam kit (6' and 8' lengths), your cable fittings (20 or 24/bag), and your cable (100' or 500' spool). Cable rail is available for 36" and 42" railing heights.
For additional product details including color depictions, dimensions, and warranty, please visit us http://www.rdirail.com/products/resalite-railing/transform-railing.html or contact our Customer Service Team.
About RDI
Since 1989, RDI has been a leading manufacturer of low-maintenance building solutions. As the Pro Dealer arm of Barrette Outdoor Living, RDI services 2-Step Distributors and Lumber Dealers nationwide. RDI's products include Endurance® vinyl, Titan Pro® vinyl-clad metal railing systems, RDI Metal Works® pre-assembled steel, Avalon Aluminum®, and Transform® ultra-low-maintenance railing systems. For more information on RDI, or to find the nearest distributor, call (877) 420-7245 or visit http://www.rdirail.com.
###