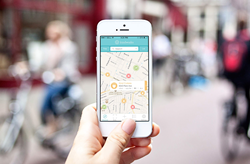 "Projects like Kindworks are a joy to work on. To be able to combine the unique technical challenges of the project with the bighearted inspiration behind it is a rare treat, and we are extremely proud of the result," says David Palmer, CMO of OpenArc
Pittsburgh, PA (PRWEB) June 10, 2016
OpenArc is pleased to announce that it has won the award for Data + Apps Project of the Year at the 2016 CREATE Festival for its work on Kindworks, a mobile app which allows users to share acts of kindness across the globe.
OpenArc designed and built Kindworks, a mobile application platform that encourages people to participate in daily acts of kindness - taking inspiration from the knowledge that others are committing such acts all around them. The client, humanitarian and entrepreneur George Blobe, was inspired by a random act of kindness to create an opportunity and a community space for others to experience the value and reach of the simplest deeds - and for them to participate themselves. He engaged No Typical Moments, a digital marketing and technology consultancy dedicated to solutions that positively impact humans and the planet, to assist with ideation and evangelization of the end product. Blobe and NTM then approached OpenArc to drive the design and technical build.
"Projects like Kindworks are a joy to work on. To be able to combine the unique technical challenges of the project with the bighearted inspiration behind it is a rare treat, and we are extremely proud of the result," says David Palmer, OpenArc Chief Marketing Officer.
About OpenArc
OpenArc is a technology consulting firm specializing in talent, strategy, and software development services. We are collaborative problem solvers, providing a spectrum of innovative technology solutions that enable client strategies. From strategic assessment and product roadmapping to staff augmentation and placement of premier technical talent to software and UI/UX solutions that include mobile apps, customized web-based applications, and enterprise mobility platforms, OpenArc's expertise and transparency lead to high expectations that are met on time, on budget and on spec.
About CREATE Festival
The CREATE Festival is part of the Dollar Bank Three Rivers Arts Festival. It features a full-day line-up of art, tech, workshops, panels, performances, awards, parties and opportunities to experience the newest trends in creativity and innovation. CREATE is a mashup of connectivity, interactivity and inspiration, showcasing the year's most innovative work in the Creative Industries.
About Pittsburgh Technology Council
The Pittsburgh Technology Council is the voice of Pittsburgh's thriving technology industry, its mission to empower its member businesses in four core service areas: talent, business development, government relations, and visibility. More than 1,300 strong, PTC members cut across Pittsburgh's tech sector from hardware and IT to life sciences and application development. Add in leading-edge professional service firms and the PTC is the largest regional IT trade association in the nation.