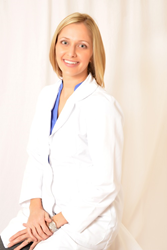 Jacksonville Beach, FL (PRWEB) June 10, 2016
Patients with missing teeth in Jacksonville Beach, FL, can now turn to Dr. Kathryn E. Ryan for permanent solutions, through the All-on-4® dental implant system, with or without a referral. . This procedure allows the doctor to fully restore the upper and/or lower teeth to provide patients with a bright new smile in just a single day. As a permanent treatment option, the All-on-4® can provide patients with all of the benefits dentures and dental implants in one simple system.
As the name suggests, All-on-4® is a treatment option that sets a fully customized dental prosthesis or bridge on four dental implants that are placed in the jaw. Both the upper and lower jaw can be restored in this minimally invasive surgical procedure. This treatment is particularly beneficial for patients who have experienced extensive tooth loss or decay, or whose bone loss in the jaw has become too significant to allow for the use of traditional implants. Patients with missing teeth in Jacksonville Beach, FL, must simply have sufficient bone mass in the areas in which Dr. Ryan places the four implants in order to remain a candidate for the procedure.
All-on-4® provides patients with many advantages over other treatment options. In many cases, patients can gain an entirely new smile in one or two office visits. Moreover, as a permanent option, the implants can help patients retain their jaw bone density, which directly impacts their facial shape and structure. Additionally, patients no longer have to forgo many of the foods they love in order to ensure that their dentures do not cause them embarrassment. Since the system is discrete, patients never have to reveal that they are not using their natural teeth.
Patients with missing teeth in Jacksonville Beach, FL, should not put off regaining their smiles with dental implants. Those who are interested are invited to contact Dr. Ryan's office by calling (866) 902-9386 to schedule an appointment.
About the Doctor
Parkway Prosthodontics is a prosthodontics practice located in Jacksonville, FL. Dr. Kathryn E. Ryan specializes in prosthodontics, esthetic and implant dentistry. She holds a Certificate of Specialty in Prosthodontics and a Master of Science Degree from Marquette University School of Dentistry, and is a Fellowship trained in implant surgery from the University of Florida College of Dentistry. Dr. Ryan is a member of the American Dental Association, International Team for Implantology, Northeast District Dental Association, among others, and participates in the Jacksonville Dental Society Study Club, Beaches Study Club and Jacksonville Women's Dental Society Study Club, to name a few. Dr. Ryan and her team are committed to providing patients with quality care using state- of-the art techniques and equipment. To learn more about Parkway Prosthodontics and the services they offer please visit their website at http://www.parkwaypros.com or call (904) 201-1010 to schedule an appointment.