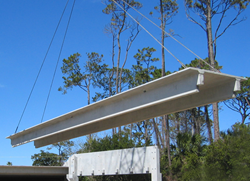 The all precast parking garage represents a new and growing market for Gate Precast's Southeast Division.
(PRWEB) June 28, 2016
As a follow up to its role in constructing The Pavilion at Ole Miss and continuing work at Vaught-Hemingway Stadium, Gate Precast was recently selected to fabricate and construct a structural precast parking garage at the University of Mississippi.
The seven-level, 1,482-space garage will feature a total precast concrete solution to include an embedded brick architectural precast façade, load-bearing walls, structural columns and beams, and a parking surface supported by double-tees. Of special note, the bricks embedded into the architectural precast on the garage and the stadium expansion match the university's traditional brick, which is normally hand-set. The all precast parking garage represents a new and growing market for Gate's Southeast Division. The precast contractor is also building two 2,500-car structural precast parking garages at the Navy Federal Credit Union headquarters expansion in Pensacola, FL.
Earlier this year, Gate successfully completed work at The Pavilion at Ole Miss, a $96.5 million basketball arena built by B. L. Harbert International and designed by AECOM. The project followed an aggressive schedule, with multiple early shop drawings submittals necessary for the interior precast. "The steel contractor needed our connection locations so they could shop install and weld the bearing angles to the steel raker beams, which support the precast concrete stadium risers for seating," said Gate project manager Mitch Dees. "We needed to get into riser production quickly to begin fabricating panels to support a two-crew erection process."
Due to the risers' size – the heaviest weighed 28,500 pounds and reached 39 feet, 2 inches long – components were often transported one at a time, requiring additional transport trailers to support the fast-moving field erection. All precast was produced at Gate's Monroeville, AL, facility.
At Vaught-Hemingway stadium, work is under way to enclose the north end zone to create a "true bowl." When completed in August, the addition will accommodate 5,500 additional fans. Similar to the parking garage, Gate Precast embedded bricks into the architectural wall panels to match existing university brick.
More About Gate:
Gate Precast Company is a subsidiary of Gate Petroleum Company, a privately-held diversified corporation headquartered in Jacksonville, FL. Gate Precast has become one of the largest and most diversified precast concrete producers in the United States, with eight manufacturing facilities, and is known for its design-assist collaboration with design teams. Annually, the company is recognized as a top subcontractor by Engineering News-Record Magazine and wins Best-in-Class PCI Design Awards for a wide range of projects. For more information, please visit http://www.gateprecast.com.