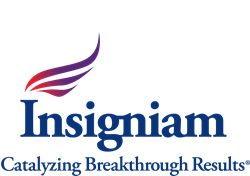 "Our clients have made it clear there's a real need for qualified transformation, innovation, and breakthrough performance consultants outside of the traditional geographies we've been operating in."
Philadelphia, PA (PRWEB) June 13, 2016
With executives of the world's largest enterprises around the world being faced with globalization, international management consulting firm, Insigniam, has added four consultants to bolster its international presence: Naomi Ephraim Beckler, France; Marguerite Moleux, UK; Eric Shilakis, Hong Kong; Sarah Laughton, Canada; and Alise Cortez, United States.
For over 20 years, Naomi Ephraim Beckler, based in Paris, France, has partnered with senior executives and management teams to develop potent leaders, transform organizations, and cause breakthroughs in individual and enterprise-wide performance across a breadth of industries. In her work with leaders and their enterprises, Naomi has built an impressive track record for quickly understanding her clients' business objectives, honing in on the fundamental challenges they face, and executing on bold objectives that will produce the breakthrough results they seek to cause.
Marguerite Moleux, based in the United Kingdom, brings a wealth of public and private sector experience to her clients at Insigniam. Prior to joining Insigniam, Marguerite served as a Senior Advisor to the French Minister of Labour, employment, and professional training. While in this important role in the public sector, Marguerite was responsible for planning and participating in high-profile international meetings including European summits, the International Labour Organization (ILO) and the G20. Marguerite also worked for the multinational food products corporation, DANONE, where she was in charge of the Sales HR team for the French Dairy business.
Sarah Laughton, based in Alberta, Canada, joins Insigniam's consultant corps amid heightened demand for Insigniam's services in the Western Canadian region. Prior to joining Insigniam, Sarah founded and ran her own independent consultancy with an emphasis on coaching executives dealing with attention deficit hyperactive disorder (ADHD). Sarah also worked for Shell Canada, spending nearly ten years at the corporation working in an array of human performance improvement and human capital roles.
Eric Shilakis, an experienced and seasoned consultant based in Hong Kong, brings over two decades of experience consulting executives, working as a Managing Director in the Asian markets, developing powerful leaders, and has a profusion of experience growing and leading businesses across the globe. Eric is a graduate of the United States Air Force Academy, and is credited by his clients for his uncanny ability to implement corporate strategies, build high performing teams, and position companies to succeed.
Alise Cortez, based in Dallas, Texas, brings her 18+ years of experience in human capital consulting to Insigniam's growing ranks of breakthrough consultants. Alise brings a curious mindset, a high business acumen, and a proven track record of developing teams and executives into high performing individuals. She also hosts a weekly business radio program called "Working on Purpose" which airs live every Wednesday evening.
"Insigniam has predicted, and is witnessing, the global shift in contemporary business," says Scott Beckett, Insigniam partner accountable for talent acquisition. "Our clients have made it clear there's a real need for qualified transformation, innovation, and breakthrough performance consultants outside of the traditional geographies in which we've been operating. The threat executives face due to globalization, innovation, and the rapidly changing technology landscape reaches to every corner of the globe. Insigniam understands that threat and is taking necessary measures to ensure our clients are being taken care of, no matter where they are in the world."
About Insigniam
Insigniam has over 25 years of experience working with large, complex organizations in generating breakthroughs in their management results—whether that be in topline growth, strategy implementation, improving profitability, or culture change. Our innovation consulting enables enterprises to innovate through identifying new strategic frontiers, generating creativity, and executing growth opportunities on those frontiers. Insigniam pioneered the field of organization transformation by marrying breakthrough performance and innovation, thus creating services and solutions that are unparalleled in their potency to quickly create dramatic growth. Clients have documented, in aggregate, more than 50x ROI in management results considered critical and essential to the success of their enterprises. Insigniam solutions include Enterprise Transformation, Breakthrough Projects, Transformational Leadership, and Managing Change. Offices are located in Hong Kong, London, Los Angeles, Paris and Philadelphia.
To learn more about Insigniam and its breakthrough consultants, visit them online at http://www.insigniam.com.