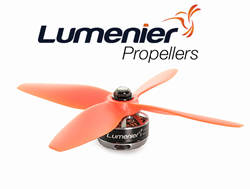 FPV Drone Racing and Freestyle performance enhanced with Lumenier Propellers.
Sarasota, FL (PRWEB) June 14, 2016
FPV Drone Racing and Freestyle flying require high quality propellers that ensure optimal thrust, efficiency and top-end speed to allow pilots to consistently perform at their best.
"Realizing there were only a few original prop designs for small multi-rotors and many clones of these same designs, we went out to engineer truly original, efficient, and durable multi-rotor propellers," says Tim Nilson, Founder and Owner of Lumenier. "Our new prop designs raise the bar of multi-rotor propeller engineering."
Today Lumenier announced 5 different propellers, each in 6 colors, available initially through HobbyKing and GetFPV. "We are excited to partner with Lumenier to get these FPV Racing products into the marketplace." said HobbyKing's Ben Everton, VP Products and Engineering. "Lumenier is known for making high quality gear and HobbyKing's customers rely on us to offer a variety of reliable, premier brands."
Lumenier prop design starts from the ground up, considering flight speed, blade RPM and other factors to optimize each profile. All propeller tooling is finely tuned to produce balanced props right out of the bag. Leveraging a proprietary algorithm, each prop has a unique airfoil and blade design, rather than using the same blade and duplicating them on double, triple or quad-bladed props. This leads to subtle, yet important, performance improvements that can mean the difference between a win or a DNF on race day.
Initially Lumenier is launching its propeller line with 4" and 5" props including: 5x3.5, 5x4.5, 5x4x3, 5x4x4 and 4x4x4. In the coming weeks, additional props will be released including a 3x4x3 and 4x4x3 and more.
About Lumenier
Lumenier is a high-end designer and manufacturer of top quality quadcopter products – airframes, motors, batteries, propellers, electronics, accessories, and more. The company operates from its main headquarters in Sarasota, Florida with wholly owned manufacturing facilities in the U.S. and China. Leveraging their expert engineers in aeronautics, mechanical and electrical design, Lumenier has become known globally for its innovation and quality. For more info please visit http://www.lumenier.com or call 941-444-0021.