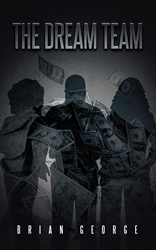 This book shows the complex, emotional, quirkiness of people around the world.
Chelmsford, England (PRWEB) June 13, 2016
Ever wonder where you would be without your group of friends? Or maybe how the world would be if every country joined forces and worked together?
In his new book "The Dream Team," author Brian George provides readers with an action-packed adventure filled with sabotage, sex and the deeper meaning of being a part of the team. Following Barry Parker's quest to get revenge on those who wronged him, readers are thrown into wild parties and dangerous situations all while learning how to turn three people into one force of reckoning.
"I wanted to take readers for a ride with this book," George said. "This fictional depiction of anti- establishmentarians, Europe's economy and fighting for the right to love, life and freedom resonates with many, not just in Europe but around the world."
George is currently a project and construction manager working in China and has found in his travels people and events much like those he wrote about in "The Dream Team." From his own experiences in traveling the world and meeting people from all walks of life, George found most of his inspiration in those around him.
"This book shows the complex, emotional, quirkiness of people around the world," George said. "I wanted to show that no matter who you are, where you are from or what you do, you look after your own."
For more information, visit http://www.brianandbyrongeorge.com
"The Dream Team"
By Brian George
ISBN: 9781491891483
Available in softcover, hardcover, e-book
Available on Amazon, Barnes & Noble and AuthorHouseUK
About the author
Brian George has been writing all his life in some form or another, for business and for pleasure. His extensive world travels on a variety of projects has given him a broad appreciation of other cultures and a liberal outlook. George currently lives between India, Thailand and England and travels to new places when the opportunity arises. He is currently working on the sequel to "Face & Honour."
For review copies or interview requests, contact:
Elizabeth Coomer
317.602.7137
ecoomer(at)bohlsengroup(dot)com