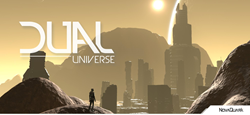 Paris, France (PRWEB) June 13, 2016
Paris-based game studio Novaquark has announced today the release of Dual Universe's first look teaser trailer in conjunction with the PC Gaming Show. Dual Universe is a sandbox Sci-Fi MMORPG currently in development for PC, set within a continuous single-shard universe where players can freely edit the world and build any construction they like with no size restrictions, from space ships to cities to giant space stations. Proud participant of the PC Gaming Show, which mission is to showcase the exciting and cool projects being made on PC, Novaquark is poised to present Dual Universe and discuss their insights in MMORPG development during the event which is broadcast live on Twitch and Youtube.
The video gives the audience a top line overview of the game building gameplay mechanics, showcasing at the same time certain aspects of the technology created for the development of the game. All the footage used for the trailer were captured in-game from a pre-alpha build. Starting with a camera view zooming in from space into a colorful planet revealing landscape and environmental details such as oceans, mountains and forests, a pilot enters a space ship that he can customize on the fly before taking off. The space ship zips through the planet's atmosphere in a third person view and continues to travel through space seamlessly passing by a massive space station and other space crafts before it dives down through the atmosphere of another planet to land above a futuristic city located inside the banks of a desert valley.
Novaquark demonstrates that Dual Universe' 64bit Planetary Engine enables smooth transitions from planet surfaces, through atmosphere and into space with no limits to how far the player can travel or see. It is also highlighting its Unlimited LOD (Level Of Detail) technology, coupled to smooth voxel edition, allowing planet-sized construction to be built, as well as large procedurally generated planets, revealed as players explore further and further.
"We are extremely proud and thankful to be part of the projects being presented during the PC Gaming Show this year," says Jean-Christophe Baillie, CEO and founder of Novaquark. "We are confident that our first look trailer will please the tens of thousands of fans that have been following us so far though our social channels, eager to hear and see more about Dual Universe."
"PC gaming has always been the platform for cutting-edge experiences. We're excited by Novaquark's vision for a player-driven, sandbox MMORPG—it's a project that reflects the spirit of the PC. We're very glad to have Dual Universe as part of the PC Gaming Show, a unique showcase for some of the best and most interesting projects on the platform," says Evan Lahti, Editor-in-Chief at PC Gamer.
Discover Dual Universe First Look teaser trailer on their Youtube channel here. Press kit is available directly from the Dual Universe Web site.
About Novaquark
Novaquark is a Paris-based game studio formed in 2014 by veterans from Ubisoft, Sony, Apple, Aldebaran Robotics, with a mission to renew the MMO genre through technological innovation. Dual Universe, their flagship title, fosters massively emergent gameplay in a huge continuous single-shard virtual world. The studio is currently hiring experienced and motivated candidates in various domains of expertize.
Check out the latest news
Game site: http://www.dualthegame.com/
Twitter: https://twitter.com/dualuniverse
Facebook: https://www.facebook.com/dualuniverse
Youtube: https://www.youtube.com/user/dualthegame