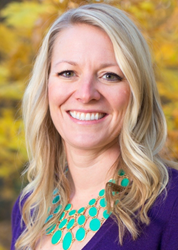 Mount Horeb, WI (PRWEB) June 10, 2016
Dr. Angela Cotey, skilled area dentist, now welcomes new patients to visit her dental practice for Invisalign® clear braces, with or without having a referral. Dr. Cotey provides Invisalign® in Mount Horeb, WI, as a convenient alternative to regular braces. These invisible braces offer various unique benefits for patients, including reduced discomfort, fewer eating restrictions and a subtler appearance.
The Invisalign® system uses clear aligners, rather than brackets and wires, to gradually adjust the positioning and alignment of teeth. To more effectively treat each patient, Dr. Cotey creates a customized set of aligners using impressions, x-rays and 3-D imaging. Typically, patients wear each set of aligners for two weeks before switching to a new set of invisible braces. Patients also visit Dr. Cotey about once every six weeks to ensure that their treatment is progressing properly. For some patients, full smile and bite correction with Invisalign® takes as little as one year.
People who visit Dr. Cotey for Invisalign® in Mount Horeb, WI, can expect several conveniences and benefits. These invisible braces are removable, which makes eating, brushing and flossing easier. This attribute also helps patients maintain a healthier diet and eliminates the risk of plaque build-up underneath brackets and wires. Invisalign® promises greater comfort, since the aligners are made of plastic that minimizes irritation to the cheeks and gums. Additionally, Invisalign® is virtually undetectable to others, which can improve patients' self-confidence.
People who would like to learn more about Invisalign® in Mount Horeb, WI, are welcome to visit Dr. Cotey's website, http://www.villagesmilecare.com, for additional information. Patients who are ready to make appointments can do so through the website or by contacting Dr. Cotey's office at (608) 433-2102.
About the Doctor
Dr. Angela Cotey is a general dentist offering personalized dental care to patients in Mount Horeb, WI. Dr. Cotey and her entire team take pride in offering the latest advancements in dentistry and dental technology to ensure each patient enjoys a comfortable experience with long-lasting results. Dr. Cotey combines advanced dentistry with a fun and friendly style. She is a member of numerous professional organizations including the American Dental Association, the Wisconsin Dental Association, American Academy of Cosmetic Dentistry, Fellow in the Academy of General Dentistry and current President of the Wisconsin Dental Study Club and Madison Dental Progress Forum. To learn more about Dr. Cotey or the services she offers, please visit her website at http://www.villagesmilecare.com or call (608) 433-2102 to schedule an appointment.