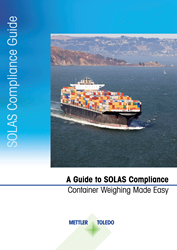 Although the new law will go into effect in less than one month, we have seen there is still quite a bit of confusion regarding the law
Greifensee, Switzerland (PRWEB) June 13, 2016
SOLAS regulations will go into effect on July 1, 2016, affecting all parts of the shipping industry, from manufacturing to logistics. METTLER TOLEDO has created a new guide to help educate businesspeople on the products that are available to them to meet compliance with the new law.
"Although the new law will go into effect in less than one month, we have seen there is still quite a bit of confusion regarding the law—who is responsible for providing the verified gross mass and what is the best way to achieve compliance," says Jeff Capella, METTLER TOLEDO marketing manager for the Vehicle Strategic Business Unit. "We created this guide to educate businesspeople on all options available to them. No matter what your current logistics chain looks like, we have a product that can be easily integrated to fill SOLAS compliance requirements."
The new guide covers key SOLAS topics, including:

What is SOLAS?
How to comply with Method 1
How to comply with Method 2
Service for maintaining compliance
As the world leader for industrial weighing equipment and the only company with a global product and service reach, METTLER TOLEDO is your trusted partner for SOLAS compliance equipment and education.
To download a free copy of the SOLAS Compliance Guide, please click here. Also see our SOLAS - Frequently Asked Questions page at http://www.mt.com/veh-solas
About METTLER TOLEDO
METTLER TOLEDO is a leading global manufacturer of precision instruments. The Company is the world's largest manufacturer and marketer of weighing instruments for use in laboratory, industrial and food retailing applications. The Company also holds top-three market positions for several related analytical instruments and is a leading provider of automated chemistry systems used in drug and chemical compound discovery and development. In addition, the Company is the world's largest manufacturer and marketer of metal detection systems used in production and packaging. Additional information about METTLER TOLEDO can be found at http://www.mt.com.