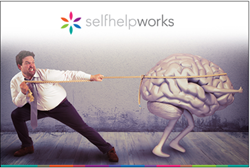 Breaking old habits and creating new ones is often an involved process. Behavior begins in the mind, not the body.
San Diego, CA (PRWEB) June 16, 2016
While commenting on a recent article in US News & World Report regarding the alleged inaccuracy of Fitbit devices, behavior change expert Louis Ryan explained that the accuracy of fitness trackers is not the main issue when it comes to their use in corporate wellness programs. The founder of SelfHelpWorks went on to explain that the real issue is that fitness trackers alone may not be able to impact those with deeply ingrained unhealthy behaviors like exercise avoidance. In Ryan's opinion, the use of activity-focused tools needs to be combined with cognitive training if the goal is to create a genuinely healthier workforce.
"For example, being given a fitness tracker or free gym membership is great for people who like the thought of exercising" says Ryan. "But what about those who dread the thought of exercising or going to the gym? In addition to wasting your budget you're likely alienating the very people who need your help the most."
The bottom line, according to Ryan, is that different segments of the population need different types of wellness programming. Perhaps most important are interventions that attract and successfully help those with deeply ingrained unhealthy habits like smoking, overeating or exercise avoidance. These people are often among the costliest segment of a company's workforce. However, they are far less likely to be impacted by standard wellness programming.
"People with strong aversions to exercise are not likely to change their sedentary lifestyle just because a new tracker is suddenly available," explains Ryan. "Nor will most of them become gym enthusiasts merely because they get a free gym membership. The aversion to exercise is something they've developed over time, and it has some deeply ingrained psychological components that need to be addressed in order to get them exercising regularly."
Ryan says that dealing with these psychological components requires a wellness intervention that speaks to the core of the problem. "Breaking old habits and creating new ones is often an involved process. Behavior begins in the mind, not the body. So if you want to get someone to exercise more, for example, you first need to work on shifting their core mindset. Once they develop the mindset of someone who genuinely wants to exercise, they naturally become more active. And that's when regular exercise is likely to become a long-term habit."
Ryan and SelfHelpWorks have spent the last 15 years developing cognitive training courses for weight loss and healthy eating, learning to love exercise, quitting smoking, stress management, alcohol management and diabetes management. The courses are all designed to deactivate the emotional response mechanism that causes people to engage in unhealthy behaviors. And based on the evidence posted on the company website's Science page, the courses work well.
For example, comparative annual Health Risk Assessment data collected from 60,000 members of a leading wellness program showed that 77% of those not meeting minimum activity standards increased their activity level; 62% who were obese reduced their Body Mass Index (average BMI reduction was 12%); 33% of tobacco users reported quitting; 47% reported lower stress levels; and 52% who participated in LivingSmart reported reduced levels of alcohol consumption.
"I'm an advocate for anything that helps anyone live a healthier lifestyle," said Ryan, "But it's important that we understand that there's a difference between supporting someone who already has a healthy mindset and empowering change in someone who doesn't – those are two different challenges requiring two different approaches."
ABOUT SELFHELPWORKS, INC.
SelfHelpWorks is the leading provider of online video-based cognitive interventions for reducing population health risk. The interventions are designed to produce sustained behavior change using an evidence-based cognitive behavioral training approach derived from cognitive behavioral therapy (CBT). They target important issues such as obesity and unhealthy eating, tobacco addiction, diabetes, chronic stress, alcohol abuse and inactivity. The interventions are primarily offered by corporate wellness programs and health providers. Users can access them privately and conveniently 24/7 via computer, tablet or smartphone.