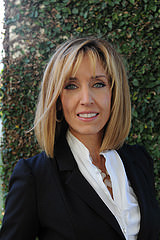 I believe women have the capacity to be outstanding leaders; many just need greater self-confidence to realize their potential.
Tampa Bay, FL (PRWEB) June 16, 2016
While women represent 45% of the labor force at Standard & Poor's (S&P) 500 companies, they account for only 1 in 4 executive- and senior-level leadership positions; and fewer than 5% of S&P 500 firms have a female CEO.(1) A number of researchers and authors suggest this disparity may be due to a "confidence gap" among women.(2, 3, 4, 5) Risk-management entrepreneur Monica Eaton-Cardone—who serves as Chief Information Officer of Global Risk Technologies and Chief Operating Officer of Chargebacks911—asserts that women need to understand how this phenomenon can affect their career and leverage self-confidence to increase their success.
In a 48-country study, researchers noted that males consistently report higher self-esteem across all cultures, with Western industrialized nations exhibiting a wider self-esteem gap.(2) Professional services firm KPMG surveyed U.S. college and working women and found that while 6 in 10 aspire to be a senior leader, the same proportion find it difficult to see themselves as a leader.(3) The KPMG study also revealed that women lacked confidence in asking for sponsors (92%), seeking mentors (79%), requesting access to senior leadership (76%) or pursuing a job opportunity outside of their experience (73%); and 67% of respondents said they need more support building confidence to feel like they can be a leader.(3)
News reporters Katty Kay and Claire Shipman further explored this confidence gap, and cited study findings showing that "men consistently overestimated their abilities and subsequent performance" while "women routinely underestimated both"—even though their actual performances did not differ in quality.(4) The duo noted that while men may doubt themselves, "they don't let their doubts stop them as often as women do."(4) Author Helene Lerner surveyed women in business and found their primary confidence busters are perfectionism (55%), micromanaging or disrespectful bosses (54%), a job that doesn't leverage their skills (49%), fear of failure (48%) and uncooperative or overly critical colleagues (46%); conversely, 86% indicated using their skills and making an impact was the top confidence builder, and 76% said the ability to make and recover from mistakes boosts confidence.(5)
"I believe women have the capacity to be outstanding leaders; many just need greater self-confidence to realize their potential," said Monica Eaton-Cardone. "Women in business often wait for their efforts to be recognized rather than asking for what they feel they deserve, or they may refrain from pursuing new opportunities because they fear they are not qualified. Even though it may not come naturally for some, it's crucial for women to have the courage to act—whether it's highlighting their abilities and achievements to senior management, sharing their opinions and ideas at meetings, volunteering for new challenges, applying for senior-level roles or launching a startup."
To overcome the confidence busters cited in Lerner's survey, Eaton-Cardone advises women to seek out role models, mentors and/or champions that will provide support, encouragement and a balanced perspective. She also urges female professionals to take risks and step out of their comfort zone to prove that they're ready for greater responsibility. As a further confidence booster, she points to a leadership effectiveness study in which women were rated more positively than men in 12 of 16 competencies and approximately equal in three competencies, while men had a slight advantage in just one: develops strategic perspective.(6)
"As a serial entrepreneur, CIO and COO, I can attest that confidence plays a key role in winning clients, and it's something every board looks for in a C-level executive," stated Eaton-Cardone. "If you expect senior leaders, other employees and customers to have faith in you, you must first display confidence in yourself. Once you do that, you've laid the groundwork for success."
Monica Eaton-Cardone invites women in business to connect with her at upcoming conferences and events. She will be attending and presenting at the Ticket Summit in Las Vegas and the Affiliate Summit East in New York, and she welcomes requests for interviews and future speaking engagements. For more information, visit http://monicaec.com.
About Monica Eaton-Cardone:
Monica Eaton-Cardone is an accomplished entrepreneur, speaker, author and industry thought leader who is internationally recognized for her expertise in risk management, chargeback mitigation, fraud prevention and merchant education. After entering the workforce at 12 and graduating from high school at 16, Eaton-Cardone found her calling as an entrepreneur when she sold her first business at the age of 19. She later became an eCommerce merchant; and after grappling with chargebacks and fraud, she took it upon herself to develop a comprehensive, robust solution that combined agile technologies and human insights. Today, Eaton-Cardone's innovations are helping thousands of organizations achieve sustainable growth, and she continues to pioneer loss-prevention best practices as CIO of Global Risk Technologies and COO of Chargebacks911. Eaton-Cardone is a champion of women in IT and business leadership, and aims to inspire the next generation of young innovators through her nonprofit organization, Get Paid for Grades. Get to know her at http://www.monicaec.com.
1. Catalyst. "Women in S&P 500 Companies" pyramid infographic; February 3, 2016. catalyst.org/knowledge/women-sp-500-companies
2. Wiebke Bleidorn; Ruben C. Arslan; et al. "Age and Gender Differences in Self-Esteem—A Cross-Cultural Window"; Journal of Personality and Social Psychology; December 21, 2015. apa.org/pubs/journals/releases/psp-pspp0000078.pdf
3. KPMG. KPMG Women's Leadership Study: Moving Women Forward Into Leadership Roles; June 9, 2015. womensleadership.kpmg.us/overview/announcement1.html
4. Kay, Katty and Claire Shipman. "The Confidence Gap"; The Atlantic; May 2014. theatlantic.com/magazine/archive/2014/05/the-confidence-gap/359815/
5. Lerner, Helene. The Confidence Myth; stats per book review by Dylan Schleicher on 800-CEO-READ; March 2, 2015. inthebooks.800ceoread.com/new-releases/articles/the-confidence-myth
6. Zenger Folkman. A Study in Leadership: Women Do It Better Than Men; March 2012. zengerfolkman.com/media/articles/ZFCo.WP.WomenBetterThanMen.033012.pdf