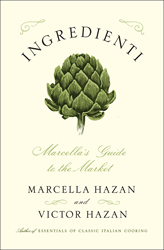 We've known Eliza and Tim for a very long time. They opened their doors of their shop for an unforgettable reception in 2008, when Marcella presented her memoir, "Amarcord". I am very much looking forward to another extraordinary event! - Victor Hazan
Seattle, WA (PRWEB) June 27, 2016
Join ChefShop.com® in welcoming Victor Hazan to Seattle to celebrate the launch of Victor and Marcella's latest culinary collaboration, "INGREDIENTI: Marcella's Guide to the Market" (Simon and Schuster, 2016. List price: $20.00). The event, An Evening with Victor (& Marcella) Hazan, will take place at ChefShop.com's Seattle retail store (1425 Elliott Ave West between Magnolia and Queen Anne) on Tuesday evening, July 26, 2016.
"Victor and Marcella have been dedicated customers and friends since our inception in 1999," say Eliza Ward, co-owner of ChefShop.com. "I always enjoy seeing Victor. Since he travels so rarely, it doesn't happen often enough!"
When Marcella Hazan, the beloved author of "The Essentials of Classic Italian Cooking", passed away in 2013, she left behind a handwritten manuscript for her next book: a simple guide to shopping for and cooking with the best ingredients from around the world. In "INGREDIENTI", Her husband, Victor Hazan distills her legendary kitchen wisdom and her years of experience in finding and cooking with fine ingredients.
As with all of Marcella's books, "INGREDIENTI" was translated and organized by Hazan, himself an authority on food and wine. And after nearly 60 years of observing Marcella as she cooked, and transcribing her often intuitive methods, Hazan channels Marcella's signature voice perfectly. "INGREDIENTI" is an authentic and lovingly executed tribute to their marriage, culinary partnership and legacy as the "Godmother of Italian cooking". Victor dedicates the book to Marcella.
An Evening with Victor (& Marcella) Hazan event will include appetizers and wine and, of course, many stories – as well as a rare opportunity to meet the always-inspiring Victor and learn of his lifelong collaborator and partner, Marcella Hazan.
"It's going to be a Seattle foodie event to remember," noted Ward.
The fee for the evening is $25, not including a hardcover copy of "INGREDIENTI". Books will be available for sale by independent bookseller, University Books, the night of the event. Please remember that only books purchased at ChefShop.com will be autographed by Victor. Please do not bring pre-purchased books to the event.
Registration will begin online Wednesday, June 8th on the ChefShop.com website (An Evening with Victor Hazan at ChefShop.com). Space is limited and reservations must be made in advance. Doors open on Tuesday, July 26th at 6:00 PM for shopping and sipping. The evening's brief program starts at 7:00 PM, with appetizers throughout.
About ChefShop.com
ChefShop.com is your online retailer for premium foods and ingredients made by family producers individually selected for quality and their adherence to tradition, purity, provenance, and most importantly, flavor. It's mouth-watering food born from passion and commitment. ChefShop.com - eat simply! eat well!