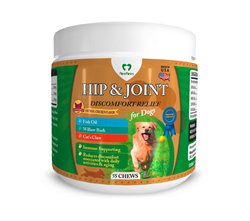 "..The results are wonderful. She is more active, laying around less; I can see she has less pain in her hips. Her coat looks better. She has had no issues, neither allergic reaction nor side effects."
Cary, NC (PRWEB) July 03, 2016
Whole Health Supply has announced that its All-Natural Hip and Joint Arthritis Pain Relief for Dogs is now being sold on Amazon.com. This supplement is a chicken flavored soft chew that can be given to older dogs that may even have teeth and chewing issues.
It is common that large breeds like Golden Retrievers, Great Danes and German Shepherds can be plagued with painful hip dysplasia. However, as dogs age, just like humans, they can develop arthritis no matter what the size of the canine. This new formula is designed to help all breeds and sizes regain and maintain healthy joints and range of motion.
Made in the USA, Hip and Joint Arthritis Pain Relief for Dogs contains all-natural ingredients which include adaptogens and naturopathic herbs which are also used for human health. The primary herbs are cat's claw root extract and willow bark. These are anti-inflammatory analgesics which can help relieve and soothe painful joints related to age and arthritis. Cat's claw and willow bark also support your dog's natural ability to resist stress and maintain optimal physiological function to encourage a healthy body and lifestyle from the cellular level up. The supplements also include 160 mg of fish oil to help keep joints lubricated and pain free so that your dog can continue to be lively and fully active.
Dogs actually look forward to receiving the chews as treats because of the enticing chicken flavor. Owners do not have to struggle with giving their canine friends one or more pills that smell bad and are hard to swallow.
This product is already receiving five star reviews. "Purchased for my Rottweiler. She is getting old and had begun showing signs of hip discomfort. She wasn't as playful as she once was, began laying around a lot…The results are wonderful. She is more active, laying around less; I can see she has less pain in her hips. Her coat looks better. She has had no issues, neither allergic reaction nor side effects. Her recommended dosage is 3 chews per day. I place them in her morning feeding. She eats them with no problems. She is healthier and happier."
Laura Manning in Media Relations at PawPaws said, "We all want what's best for our families, and that includes our pets! If you are looking for an herbal supplement that can help restore your dog to optimal health and playfulness, look no further than our Arthritis Pain Management for Dogs."