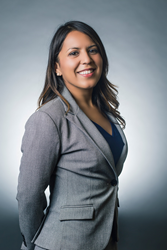 Phoenix, AZ (PRWEB) June 13, 2016
Phoenix criminal defense law firm MayesTelles, PLLC would like to congratulate Attorney Candy Marrufo on graduating from the State Bar of Arizona's Bar Leadership Institute (BLI), Class of 2015-2016. The BLI is a nine-month professional development program geared toward the professional growth and leadership enhancement of a diverse and inclusive group of lawyers.
The BLI was founded in 2007, and since that time has prepared more than 100 attorneys for leadership positions within the Bar as well as the community. Program sessions cover a variety of topics including leadership development, ethics and career development, and include conversations with judges, government attorneys, in-house counsels, and executives.
MayesTelles, PLLC is extremely proud of Marrufo's notable accomplishment, and looks forward to seeing what the future has in store for her.
About the Firm
MayesTelles, PLLC is a criminal defense law firm located in Phoenix, Arizona. The firm handles a wide range of cases, from DUI and drug crimes to expungements and sex offenses. The attorneys at the firm have collectively handled thousands of cases. Inquiries are welcome 24/7, so to learn more, get in touch with the firm at (602) 428-7104 or by visiting http://www.mayestelles.com/.