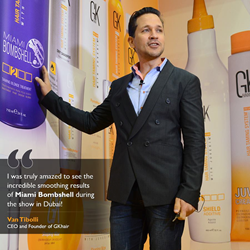 I was truly amazed to see the incredible smoothing results of Miami Bombshell during the show in Dubai!
Ft. Lauderdale, FL (PRWEB) June 16, 2016
In what may rightly be termed as two of the largest global exhibitions for professional beauty, hair and overall well being, Beauty World Dubai and Premiere Orlando took place back to back showcasing new products to provide healthy hair solutions for all hair types.
GKhair, the leading hair smoothing company worldwide launched the new salon professional products; Miami Bombshell & Dry Oil Shine Spray to distributors and salon professionals. GKhair luxury hair care products can be found in the finest hair salons around the world improving the overall condition of the hair with the companies' signature ingredient namely, Juvexin. Juvexin is a keratin anti aging protein blend optimized specifically for the hair to return the hair to a youthful state.
GKhair's newest hair solution, Miami Bombshell is a smoothing treatment formulated specifically for blondes to tame hair, repair and neutralize unwanted brassy tones in the hair.
Van Tibolli expressed GKhair's resolve to continuously provide hair innovations, with focus on more manageable hair with products that improve the hair's overall hair health.
GKhair began with the vision and values of the CEO and founder Van Tibolli. His concept is very simple; develop and create the best products by using the highest quality ingredients available in the hair care industry. GKhair's superior hair care products are produced by extensive research and development to deliver beautiful, healthy and tamed hair.
For more information please visit us on GKhair.com.