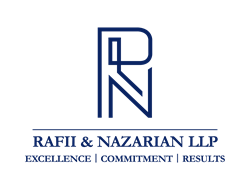 Beverly Hills, CA (PRWEB) June 10, 2016
On June 9, 2016, Rafii & Nazarian, LLP entered into the Carter v. Universal Studios et al. lawsuit as lead counsel which is pending in the Los Angeles Superior Court Case No.: BC583946. The lawsuit revolves around the making of the Straight Outta Compton movie, the tragic death of Terry Carter, and the loss to his family and the Compton community. The civil lawsuit was filed on behalf of Mr. Carter's family and alleges causes of action for Mr. Carter's wrongful death and negligence against the defendants.
According to the civil lawsuit, an altercation between persons employed by Universal Studios, Dr. Dre, and Ice Cube ensued with Suge Knight at Tam's Burgers on January 29, 2015, and led to the tragic death of Terry Carter.
"After meeting with Mrs. Lillian Carter and their children, it was readily apparent what an incredible man Mr. Carter was, and what a loss this is not only to his family, but to the entire Compton community," said Mr. Rafii.
Mr. Rafii further stated, "While we are not obviating responsibility from Defendant Suge Knight, this lawsuit was also filed against Universal Studios, Dr. Dre, Ice Cube and Cle Sloan for the tragic death of Mr. Carter."
Rafii & Nazarian, LLP is currently representing a number of individuals and their families that have sustained catastrophic injuries and wrongful death matters against large corporations. To learn more about the firm, or for a free no obligation consultation, call (855) LAW-4111.