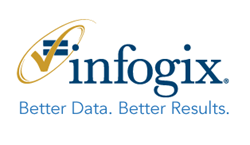 The Insurance Advisory Board is an unrivalled team of industry experts and thought leaders, whose insights will play a critical role in ensuring that Infogix is addressing the wide variety of data-related challenges in the insurance marketplace.
Naperville, Ill (PRWEB) June 13, 2016
Infogix, a leader in helping companies provide end-to-end data analysis across the enterprise, has appointed a group of 11 senior level executives representing a cross-section of the property and casualty insurance industry to form the Infogix Insurance Advisory Board.
The invitation-only Board will meet several times per year to discuss business challenges, market conditions, and contribute their insights on trends, strategic developments and the best and latest practices of relevance to carriers.
"The Insurance Advisory Board is an unrivaled team of industry experts and thought leaders, whose insights will play a critical role in ensuring that Infogix is addressing the wide variety of data-related challenges in the insurance marketplace," said Monique Hesseling, partner at Strategy Meets Action (SMA), a leading analyst firm focused specifically on the insurance market. "Bringing together these industry experts across various P&C disciplines is a great way to gain perspective on the industry and provide strategic direction to the organization."
The newly appointed board is comprised of:

Mark Berthiaume, Senior Vice President and Chief Administration Officer, The Hanover Insurance Group
Elizabeth Bock, P&C CFO, Kemper Services Group
Bryan Fowler, Vice President and CIO, Oregon Mutual
Bill Harnett, Head of Innovation, ACORD
Don Michelinie, Manager of Technology Services, Andover Insurance Companies
John Rendina, Senior Vice President, Director of Operations, Seneca Insurance Companies
Doug Roller, Founder and former CEO, Duck Creek
Jim Scardino, Regional President, AmTrust North America
Dave Stevenson, Senior Vice President, Navigators Insurance
In addition to those members listed, the Board will include several more senior level executives from other large insurance carriers. Sumit Nijhawan, president and CEO of Infogix, will oversee the Board, lead Board discussions and be an active participant in each meeting.
In addition to providing recommendations on how to address the challenges and opportunities ahead, and the evolving needs of the industry, the Board will collaborate to:

Identify drivers and priorities that are shaping the insurance industry
Explore prevailing insurance industry challenges and best practices
Provide objective third party viewpoints and reality checks
Validate Infogix market alignment, vertical strategy, product direction and messaging
Provide insight into carriers' decision-making process
"We are honored to welcome such distinguished and influential leaders to the Board," said Nijhawan. "We look forward to the unique perspective of our respected members as we expand our presence in the insurance industry and optimize our solutions to address key challenges within the industry. We will benefit greatly from the range of expertise and experience that will help form our company and product strategy moving forward."
For more information about Infogix and the new Insurance Advisory Board, visit http://www.infogix.com. Full Board member bio's available upon request.
About Infogix, Inc.
Infogix helps solve business challenges by analyzing data as it moves through complex business environments to improve the customer experience, corporate profitability and operational efficiency. The Infogix Enterprise Data Analysis Platform improves data quality, ensures effective transaction monitoring, provides balancing and reconciliation, identifies and predicts fraud and customer behavior. Infogix provides best-in-class solutions that seamlessly integrate into operations and allow clients to manage highly complex, data intensive business environments. By analyzing, processing and monitoring 100 percent of data in real-time or in batch, Infogix is able to provide proactive and actionable intelligence to manage operational workflows and steps. To learn more visit http://www.infogix.com or @Infogix.