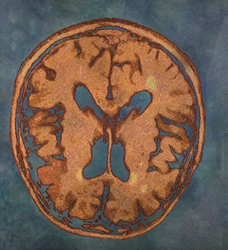 'A View Within' inspires us to open up about our own experiences with life and death, allowing us to discuss subjects—like illness and disease—that are otherwise unpalatable.
Houston, TX (PRWEB) June 15, 2016
The advent of sonograms, MRIs, and other advanced forms of body imaging have transformed modern medicine and the way in which people view their bodies. These non-invasive renderings provide doctors with critical information about personal health, and, yet, when faced with uncertainty about a diagnosis, these medical images can provoke fear and confusion. They give a powerful glimpse into the complex systems of the bodily existence, marking growth and deterioration.
This summer, Houston Center for Contemporary Craft (HCCC) presents "A View Within," an exhibition of textiles by Karen Rips and Paula Chung inspired by body imaging from the artists' friends, family members, and strangers. As a collaboration that began in 2009, Rips' and Chung's textiles illuminate the beauty, strength, and vulnerability of the human body, introducing emotion to these otherwise static images. Rips and Chung write in their artist statement, "As artists, we find these images compelling, since they can be seen simply as shapes and lines, dark and light spaces."
Uniting layers of hand-dyed silk and cotton through a combination of stitches made both by hand and by a free-motion sewing machine, each artist interprets the same diagnostic image in her own distinctive voice. In Rips' piece, "Swayback," and in Chung's piece, "Crossed Arms," each artist responds very differently to an MRI of a torso in profile. Rips' bold and expressive textiles translate emotion through line, color, and space, distilling each image into an abstract composition. In "Swayback," Rips creates a gestural red stroke marked by cross-stitching to reflect the curve of a spine. Like ripples of water, fabric is gathered on either side of the spine, echoing the outline of the silhouette.
Alongside Rip's abstract interpretation of the spine, in "Crossed Arms," Chung's beautifully detailed tapestry provides an intimate portrayal of the figure's posture by using a free-motion sewing machine to create rich color gradations. Using this method, she is able to thread up to six different colors of thread at one time. This free-form technique allows her to exercise great control over the thread, which yields soft and subtle color changes in the textile. Chung's impressionistic use of color evokes an intense emotional response while it is also a realistic study of an MRI.
The artists' command of material and technique inspires an important dialogue about people's interpretations, responses, and relationships to these medical images. HCCC Curator Kathryn Hall reflects on the positive connection between art and medicine that this exhibition illustrates: "Artists have made significant contributions to our understanding of the human body. Leonardo da Vinci's studies of the mechanics of the heart's arterial valves, as well as his drawings of the human skeleton and major organs, were critical in determining how our bodies function. This is no less true today. 'A View Within' inspires us to open up about our own experiences with life and death, allowing us to discuss subjects—like illness and disease—that are otherwise unpalatable." At the heart of this exhibition, Karen Rips' and Paula Chung's textiles expose viewers to the inner beauty found within their own bodies, challenging them to embrace change and find common ground.
On View
May 27 – September 3, 2016
Main Gallery
Houston Center for Contemporary Craft
4848 Main Street, Houston, TX 77002
Hours & Admission
Open Tuesday through Saturday, 10 AM – 5 PM; closed Sundays, July 5th – Labor Day. Holidays: Closed Easter, July 4th, Labor Day, Thanksgiving Day, Christmas Day and New Year's Day. Admission is free.
About Houston Center for Contemporary Craft
Houston Center for Contemporary Craft (HCCC) is a nonprofit visual arts center dedicated to advancing education about the process, product and history of craft. HCCC provides exhibition, retail and studio spaces to support the work of local and national artists and serves as a resource for artists, educators and the community at large.
HCCC is funded in part by grants from The Brown Foundation; Houston Endowment, Inc.; the City of Houston through the Houston Arts Alliance; Texas Commission on the Arts; the National Endowment for the Arts; the Kinder Foundation; the Morgan Foundation; Windgate Charitable Foundation; and the Wortham Foundation. HCCC is a member of the Houston Museum District and the Midtown Arts District.
For more information, call 713-529-4848 or visit http://www.crafthouston.org. Find HCCC on Twitter, Facebook, and Instagram @CraftHouston.
###