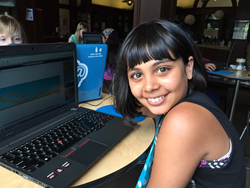 Partnering with Alexa Café is a natural fit, allowing us to complement the organization's efforts while providing another resource for our young members who are looking for more ways to explore their interests in STEM.
Chicago, IL (PRWEB) June 13, 2016
The Society of Women Engineers (SWE) has endorsed iD Tech's Alexa Café curriculum by entering a partnership with the organization. The endorsement is in support of iD Tech and SWE'S shared objective to further education in science, technology, engineering and math, with a heavy focus on providing exposure to STEM among girls, underrepresented minorities and other children with limited access to valuable, educational programs.
"Expanding diversity in STEM careers starts with our future generation of engineers," said Karen Horting, CEO and executive director of SWE. "We have to change the perception of STEM by offering educational programs like this to communities in need, and by showing girls and minorities how engineering and technology can align with their interests. Partnering with Alexa Café is a natural fit, allowing us to complement the organization's efforts while providing another resource for our young members who are looking for more ways to explore their interests in STEM."
iD Tech is a summer camp program offered across the country that provides students with high-energy, hands-on technology education. Alexa Café is a program within iD Tech that was created in 2014 after YouTube CEO Susan Wojcicki approached iD Tech to start an all-girls STEM program – something that would appeal to both girls who have done coding before and girls who might not otherwise try a coding or STEM course. Since its creation, more than 1,400 girls have attended Alexa Café, and 2,000 participants are attending this summer. With iD Tech's focus on getting more girls involved in STEM with programs like Alexa Café, the organization has seen an increase of 205 percent in the number of girls attending iD Tech camps from 2013-2015.
"In addition to having girls who like coding attend, we've had girls attend our camps who have had virtually no interest or awareness of STEM, and come out wanting to pursue a future career in engineering and technology," said Pete Ingram-Cauchi, CEO at iD Tech. "Partnering with an organization like SWE increases awareness of these programs to even more girls who may have high potential in STEM careers in the future, but may not have access to resources that encourage that potential."
The Alexa Café program puts an emphasis on entrepreneurship, leadership, brand identity and philanthropy. Girls participate in STEM projects that focus on meaningful, social causes. Girls can participate in courses on programming, engineering, 3D modeling, 3D printing, game design, web design, photography and filmmaking.
"Girls have a tendency to diverge toward careers where they can make a difference in the world, and they often don't realize they can do that as an engineer," Horting added. "Demonstrating this first-hand is how we are going to change the perception of what an engineer is and what an engineer does. Creating an environment like Alexa Café does – one of open communication, inspiration and empowerment of women – furthers that encouragement and allows girls to discover STEM in an un-biased environment. At a young age, this is highly impactful."
As part of the partnership, SWE will be providing scholarship opportunities to girls who need additional support to attend the Alexa Café summer program. The scholarships will be provided through SWENext, SWE's program for students under the age of 18. SWENext is a program at no cost that provides up-to-date information on engineering events, camps, scholarships, awards, meet-ups and more. To learn more or sign up for SWENext, visit swenext.swe.org.
Media photos can be accessed here: https://drive.google.com/a/idtech.com/folderview?id=0B11e9sFqcAN4b2lGeFFuZGptMzQ&usp=drive_web#
About SWE
The Society of Women Engineers (SWE), founded in 1950, is the world's largest advocate and catalyst for change for women in engineering and technology. The not-for-profit educational and service organization is the driving force that establishes engineering as a highly desirable career aspiration for women. To ensure SWE members reach their full potential as engineers and leaders, the Society offers unique opportunities to network, provides professional development, shapes public policy and provides recognition for the life-changing contributions and achievements of women engineers. As a champion of diversity, SWE empowers women to succeed and advance in their personal and professional lives. For more information about the Society, please visit http://www.swe.org or call 312.596.5223.
About iD Tech
iD Tech is the leader in summer STEM education programs for students ages 6-18, with over 235,000 students enrolled since 1999. Students solve engineering challenges, learn programming, code apps, build robots, design video games, and more. Programs are held at over 120 prestigious campuses nationwide, including Stanford, Rice, Caltech, Yale, Princeton, and many others. There are 5 iD Tech summer STEM programs held nationwide: Alexa Cafe (all-girls, weeklong, ages 10-15), iD Tech Camps (weeklong, ages 7-17), iD Tech Mini (weeklong, co-ed, half-day options, ages 6-9) as well as teen academies iD Programming Academy and iD Game Design & Development Academy (2-week, pre-college, co-ed, ages 13-18). To learn more, visit iDTech.com or call 1.800.709.8324.