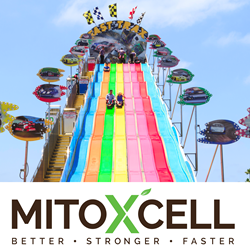 San Diego, CA (PRWEB) June 12, 2016
With fair season in full swing, local company MitoXcell will be showcasing the product at Del Mar Fair in the Expo Hall, June 3 through July 4. This provides the Carlsbad company an opportunity to extend to the local masses and share the health benefits raw cacao has to offer.
Being San Diego's largest annual event, the Del Mar Fair hosts over one million visitors who come from far and wide to get a taste of San Diego's rich local color each year. Some of the most popular attractions at the fair are rides, concert series, various exhibits and of course, the food. Mad About the Fair is the theme of this year's San Diego County Fair, and audiences will enjoy the grand-scale tea party featuring the renowned Lewis Carroll classic Alice's Adventures in Wonderland, fused with influences from steampunk, cosplay and great literature. From wiener dog races to deep fried Starbucks, the fair truly has it all.
A budding local company, MitoXcell, will be presenting their health food product for a second year to audiences of the fair. MitoXcell is a raw cacao based five ingredient formula that aids in recovery and endurance. The five ingredients of the product are as follows: raw cacao, echinacea, l-carnitine, alpha lipoic acid and trans resveratrol. The ingredients are clinically proven to work at the cellular level to improve mitochondrial performance, refining cell walls and increasing the overall function of the body's cells. In turn, the body's energy levels are naturally elevated without the negative effects of artificial energy such as dependence, jitters and crashing. The product promotes endurance and supports a healthy, natural diet that pairs perfectly with the active San Diegan lifestyle.
The fair is located at 2260 Jimmy Durante Blvd., Del Mar, CA 92014, and will take place from Friday, June 3 through Monday, July 4. Hours are as follows: Tuesday-Thursday 11am-10pm, Friday 11am-11pm, Saturday 10am-11pm and Sunday 10am-10pm. The Fair will be closed all Mondays (except July 4) and the first two Tuesdays. (Closed dates are June 6, 7, 13, 14, 20 and 27.)
MitoXcell can be found at the fair in the Exhibit Hall located at booth #4272.