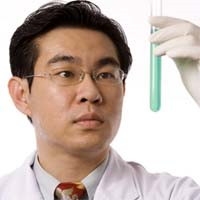 We found that OPRT expression was extremely high in malignant pleural mesothelioma tissue.
Raleigh, NC (PRWEB) June 12, 2016
Japanese doctors tested mesothelioma patients for their expression of various enzymes, including TS, the enzyme targeted by the popular mesothelioma drug pemetrexed (Alimta), and OPRT, an enzyme that can influence the development and spread of mesothelioma. Surviving Mesothelioma has just posted a new article on their findings. Click here to read it now.
A team representing researchers across Japan enrolled 15 malignant pleural mesothelioma patients who were diagnosed between 2004 and December 2013.
"We found that OPRT expression was extremely high in malignant pleural mesothelioma tissue," writes lead study author Yoichiro Hamamoto of the National Hospital Organization Disaster Medical Center in Tokyo.
In fact, according to the study summary published in Rare Disease, more than 85 percent of mesothelioma patients tested had very high OPRT expression. The patients were then treated with S-1, a drug that not only targets TS expression (like pemetrexed does) but also acts on OPRT expression.
"The use of the word 'remarkable' by the researchers in describing the results of at least one case of mesothelioma treated with S-1 told us that this is a study mesothelioma patients and their families should know about," says Alex Strauss, Managing Editor of Surviving Mesothelioma.
For more information on how the drug was used and how it is believed to work against malignant mesothelioma, see Enzyme Study Sheds Light on Potential New Mesothelioma Treatment, now available on the Surviving Mesothelioma website.
Hamamoto, Y, et al, Orotate phosphoribosyltransferase is overexpressed in malignant pleuralmesothelioma: Dramatically responds one case in high OPRT expression, April 5, 2016, Rare Diseases, eCollection 2016, http://www.tandfonline.com/doi/full/10.1080/21675511.2016.1165909?af=R&
For nearly ten years, Surviving Mesothelioma has brought readers the most important and ground-breaking news on the causes, diagnosis and treatment of mesothelioma. All Surviving Mesothelioma news is gathered and reported directly from the peer-reviewed medical literature. Written for patients and their loved ones, Surviving Mesothelioma news helps families make more informed decisions.