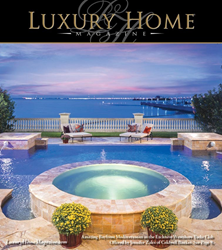 Our goal is ultimately to be a resource to not just our Publishers, but to our Clients and their Clients as well.
El Dorado Hills, CA (PRWEB) June 23, 2016
Luxury Home Magazine® (LHM) introduces a Publishing Opportunity portal as part of their website LuxuryHomeMagazine.com to bring real-time information to interested parties seeking publishing opportunities. After launching its second magazine in the Greater Sacramento region in 2005, Luxury Home Magazine started its expansion built on the interests of entrepreneurs seeking out the opportunity to own their own publishing business under the LHM umbrella. As of 2016, 100% of the markets that have opened were either from referrals, individuals picking-up a magazine in another market or through LuxuryHomeMagazine.com.
As LHM continues to expand nationally, the need to launch a landing page for Publishing Opportunities became an important part of showcasing the individuals and publishers behind the brand. LHM became the largest network of market-specific luxury home magazines as it started its expansion in 2006 from Hawaii to Tampa. LHM developed a proven and viable system of duplication and long-term sustainability. Fourteen years later, Luxury Home Magazine, a niche publication, prints over 110,000,000 pages annually. The LHM website, LuxuryHomeMagazine.com, is on the front cover of each and every magazine printed throughout the country, driving traffic to its web, digital and social portals.
Everyone always asks, "What makes Luxury Home Magazine® unique and stand out from other advertising media in today's ever-changing real estate market?" For one thing, regardless of the economy, LHM has always stayed true to its Mission and Vision Statement in building the LHM brand on relationships, customer service, doing what most are not willing to do and creating exceptional value for every client represented throughout the country.
In 2002 Luxury Home Magazine began as an average size magazine serving the needs of luxury real estate agents in the Portland, OR area. There were no social, digital or mobile platforms and many websites were designed with Flash. In 2003 Luxury Home Magazine transitioned to an oversized "coffee table magazine" format featuring exceptional luxury real estate, luxury specialists, builders, products and services presented in easy-to-read layouts.
Luxury Home Magazine has consistently adapted to both the needs of the publishers and their clients and always remembers the foundation of what LHM was built upon, regardless of the technology that comes into play. Integrity and transparency are still at the forefront of what makes Luxury Home Magazine a scalable brand. This is due to the incredible one-on-one relationships that are built in each and every market represented.
Today, Luxury Home Magazine's powerful distribution and circulation target the most affluent and influential demographic audiences locally, regionally, nationally and internationally – all through print, targeted direct mail, online, digital, social and mobile platforms.
"As Luxury Home Magazine continues to provide a superior market-specific product, we are driven to give our Publishers more intel and real-time training. Our goal is ultimately to be a resource to not just our Publishers, but to our Clients and their Clients as well. Our Team, our Vision, our Values and our Focus are the driving forces as we continue opening magazines throughout North America." -Brad Taylor, CEO LHM
Luxury Home Magazine® is a division of Sunshine Publication, Inc. / LHM Media Group. Publishing Opportunity information and online magazine content featuring stunning luxury homes, the finest luxury real estate and luxury real estate specialists can be found at LuxuryHomeMagazine.com. For more information: info(at)lhmmediagroup(dot)com.