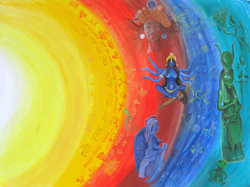 All Goddesses with their grey shades relate to real human emotions
Cupertino, California (PRWEB) June 12, 2016
Sujata Tibrewala has always found an uncanny relationship between modern day scientific approaches and the age-old principles of religion. While in today's world divided by religious dogmas the idea seems strange, Tibrewala says that if we look a little deeply we will realize that the basic ideologies propagated by the religion since times immemorial is something that scientific discoveries are verifying today.
Her works reinforcing the same idea are currently put up on display at her studio. One of her works entitled Mitochodrial Mother was used to illustrate the same point at the Women's Economic Forum, held in New Delhi, India (May 16-20). During a panel discussion on the topic - Convergence of Science and Religion through Art, Bangalore based artist Bharati Sagar, lead speaker at the discussion stressed the connection between science and religion by showing Tibrewala's work along with other eminent artists.
This hard-hitting acrylic on canvas work called Mitochondrial Mother, captures a mother with a globe in her womb. The artist uses the medium of science to explain that scientists can trace the human ancestry through Mitochondrial DNA (mtDNA) that is present in every living person. Interestingly this DNA descends directly from the mother without any recombination from the father. No wonder that every religious text underlines the grave contribution of a mother in the making of human kind. While we might bicker about the religious tenets that isolate us from one another, all religions unify to tell us that we have a common mother, a common composition and a heritage that links us together. It may have taken scientists centuries to reach to this conclusion through the discovery of this powerful DNA, the stories in our religious texts of Adam and Eve in Bible or the Sanskrit message of Vasudhaiva Kutumbakam (the world is one family) as it appears in Hindu text Mahaupanishad point out to the same logic.
Evoking equally strong emotions is another work currently on display called Goddess. Here the artist paints Goddesses from all eras and beliefs. While religion is replete with goddesses be it the references dating back to Harappa or Mohan Jo Daro civilizations, to the tales of goddesses from the Celtic and African belt or the mentions of Kali –the Indian Goddess of creation and destruction to the Egyptian goddess Maat symbolizing truth and justice, the artist sees a realistic connection in all goddesses from various eras. Tibrewala says, "The powerful goddesses have shades of black and white just like humans. Unlike the idea of an all powerful 'God' thrust upon us as a pristine, flawless entity, goddesses are more relatable."
The idea being to stop viewing religion or its purveyors as faultless beings but to accept the notion that all religions point towards the same direction of overcoming flaws for a better humanity.
The artist believes that the mad rush to save our space in a certain sect or belief is an urban delusion, scientifically observed all religions point towards a unifying universal force.
Sujata Tibrewala, a self-taught artist come engineer remarkably embodies the indomitable spirit of human existence through her works. Her works, center around the theme of eco-feminism. She has exhibited her artworks in some of the most reputed venues around the globe such as University of Illinois, Chicago, Raw San Jose, Parallax Art Fair London, the Regional Commission of Arts St Louis, Life Force Arts Chicago, Mindworks Gallery Chesterfield, St. Louis Artists' Guild, Chesterfield Arts, Art World Association, Women's Caucus for the Arts, MySLART and Lalit Kala Academy, Delhi.
She moved to the USA in 2010 from India and practices her art form at the Bay Area, CA, where she resides presently.