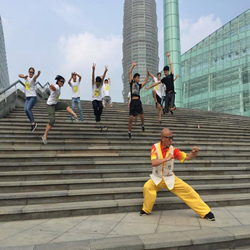 Let's have some fun with intelligence and happiness
Atlanta, GA (PRWEB) June 17, 2016
Shaolin Institute Atlanta campus will host a summer party to give the Atlanta Community an unforgettable Asian cultural and martial arts experience. The open house event is to be held on June 18, 2016 at 4350 Peachtree Industrial BLVD, Suite 500A, Norcross, GA 3007.
The open house event is free for families of youth and teens around the Atlanta metro, and promises to provide a great Asian cultural experience. There will be numerous Asian cultural arts and martial arts games for everyone to enjoy.
"The entire staff of the institute Atlanta campus would like to invite everyone who is interested in Asian culture and fun games to visit the institute at 11:00 am on Saturday, June 18th," said the project coordinator. The event will not finish until 2:00 p.m. with refreshments, a potluck meal, and free drawings for special prizes.
The party promises to be both fun and educational. It has some interesting discipline games designed to improve kids' focus and attention span, said the coordinator.
"We shall not only deliver kids and teens a fun time but also provide them with unique Asian cultural experiences that engage their body, mind and intelligence," remarked the coordinator.
"We shall also provide fun and healthy games for the parents. We have designed Tai Gong and simple Tai Chi to let them have a healthy experience," said DeRu, the head Master of the institute.
There will also be some free martial art instruction, exhibitions, and unique Asian cultural performance by Shaolin Institute intensive summer camp members and the SWAT team.
One instructor indicated there will be various awards for the winners of games with prizes valued from $20 gifts to $600 scholarships.
"All the fathers who participate in our event or call us during the month of June will get a special father's gift along with a father's summer special health package during the entire father's month of June," remarked the coordinator.
Winners may also be awarded with summer camp special memberships, after-school Chinese and KungFu special programs, and even future China trip prizes, said the director. "Let's have fun with intelligence and happiness," he said.
About the Shaolin Institute
Shaolin institute is the largest (more than 30,000 sq. f.t combined space) private institute of its kind outside China, teaching total martial arts of traditional Shaolin, modern MMA, Chinese Culture, Arts and Natural Healing with over 40 teaching staff, administration and contracting team members.
The institute teaches not only the ancient arts of Shaolin Chan & Kung Fu, Tai Chi (Taiji), Wushu, but also the Chinese ancient system of health-wellness such as Chan Nutrition, Natural Healing, Medical Qi Gong, and Tai Gong Mind-Body Healing.
For more info: call 770-286-9808; http://www.shaolinatlanta.com, http://www.Shaolin-world.net