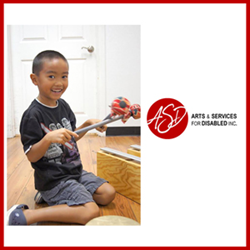 We understand the importance of helping those around us who are in need
Lakewood, CA (PRWEB) June 13, 2016
Saylor Insurance Agency announced the debut of its new charity campaign benefiting Arts & Services For Disabled, Inc. The current campaign is part of the agency's master charity program that elects a new individual, family, or a nonprofit organization to receive their help every 60-90 days.
ASD's Creative Health & Wellness Clinic is an outpatient offering research and evidence-based treatment programs for children and youth with various disabilities, including autism spectrum disorder, cerebral palsy, and intellectual disabilities. Their Creative Arts IN Therapy & Creative Arts AS Therapy approach helps kids achieve individual goals. Saylor Insurance Agency's fundraising campaign's mission is to raise funds to cover the costs of one child's specialized group therapy sessions.
"We understand the importance of helping those around us who are in need, and we really believe in the work that Arts & Services For Disabled, Inc. does. They have the ability to transform the lives of not only the young clients, but their families as well," said Lisa Saylor Saul.
Each new cause showcased by the agency will accompany a detailed full story about the elected cause on a designated donations page. To join Saylor Insurance Agency in supporting the campaign for Arts & Services For Disabled, Inc., interested parties are encouraged to visit the campaign page at http://www.saylorinsuranceagency.com/Bringing-The-Arts-To-Therapy-_18_community_cause and share it with their friends and family through social media and email.
With the charity program, Saylor Insurance Agency takes responsibility for promoting the causes and campaigns through its many channels, including email and social media, to include its own database of customers, business partners, and staff.
The agency also owns a monthly publication, Our Hometown magazine, which reserves a full page featuring the campaign of the chosen cause. The electronic Flipbook version of the current issue of the magazine can be accessed here: http://www.saylorinsuranceagency.com/Our-Hometown-Magazine_46.
About Saylor Insurance Agency
Lisa Saul, owner and principal of the Saylor Insurance Agency, has been involved in the insurance industry her entire life. Shortly after graduating from UC Santa Barbara, Lisa worked with her father, Jerry Saylor, an Allstate representative since 1966. After her father retired in 2012, Lisa took a leadership position in the agency and has since achieved multiple industry awards, including Premier Agency Designation, Circle of champions, National Conference and two Honor Rings. Lisa and the team at Saylor Insurance Agency are proudly committed to serving both clients and the greater community, and offer a full range of custom-tailored insurance solutions. To reach a helpful and knowledgeable representative from Saylor Insurance Agency, browse to http://www.saylorinsuranceagency.com/ or call 800-655-3922 – se habla Español.