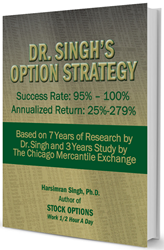 It's not wise taking big risks trading stocks or futures while it's possible to trade options with a minimal risk.
NYC, NY (PRWEB) June 14, 2016
Dr. Singh is holding a webinar to discuss the following:
How to trade options so they could be safer than trading stocks or futures. He will discuss his strategies, how to be successful more than 95% of the time when trading stock options. He will also discuss his new finding, "Dr. Singh's 4 Legged Strategy." This strategy has a very minimal risk as compared to the profit potential.
When asked how he comes up with these kind of option strategies, he replied, "Trading options is a highly intellectual game. I love challenges whereby you risk very little to make big gains. I got into these after I wrote the book, 'How 12 Top Investors Made Billions In Stocks'. These billionaires taught me how to make big profits by risking very little."
Dr. Singh has a tremendous record of success. In 2015 he recommended 57 trades to his clients and 56 were successful. He is a recipient of a Ph.D. based on his research of stock option strategies.
Dr. Singh provides free weekly tips, free newsletters, free webinars and his book for free on stock options trading.
Click here to obtain a private passcode to the webinar being held on Thursday, June 16 at 8:00 PM EST. Capacity is limited to 100 attendees so Dr. Singh could try to answer everyone's questions.