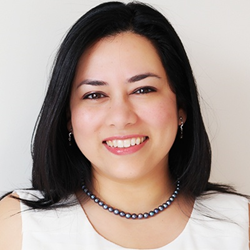 "We are living in an era of immense opportunity for associations if they can successfully move into a digital-first mindset."
Ashburn, Virginia (PRWEB) June 14, 2016
HighRoad Solution, the only digital agency focused exclusively on associations to offer email, automation and inbound marketing services announced that Maneesha Manges has joined the agency as the Director of Consulitng. HighRoad made the announcement at the American Society of Association Executives (ASAE)"s Membership, Marketing & Communications Conference being held this week in Washington, DC.
Manges joins HighRoad after a three year hiatus from the association market in which she led the global roll-out of Exxon-Mobil's user experience-driven website model. With deep roots in association digital marketing consulting gleaned from her years consulting on website, social community, event and email projects, Manges returns to the association industry to lead HighRoad's growing digital marketing consulting practice.
"We are in the midst of a market shift in the association industry," stated Ronald McGrath, CEO and co-founder of HighRoad Solution. "The choice of technology tools is immense and the need to now employ digital technology for lead generation is largely new in the association space. Our associations have told us repeatedly that they need more than a tools-based company—they need a partner that can guide them through a digital transformation. We are excited to have Maneesha join the team to meet the market demands for experts that can provide both digital marketing and association business consulting expertise."
"Associations are ready for the next step in evolution where they realize that technology alone is not the answer to member acquisition and retention," said Manges. "What organizations need now is a reliable partner that can meet them where they are in their digital transformation journey and provide the know-how for how to apply market growth strategies to their current business and execute the strategy in the digital space. We are living in an era of immense opportunity for associations if they can successfully move into a digital-first mindset."
HighRoad Solution's digital consulting practice was established in 2014 and now includes associations such as the American Payroll Association, Electronic Retailing Association and SnowSports Industries America that work with HighRoad to continuously optimize their digital footprint through increased insight into member and customer behavior. HighRoad Solution offers consulting services ranging from lead generation strategies with deep expertise in social media and digital advertising to workflow process re-design and change management support for associations that are in the midst of evolving to successfully work in a digital economy.
About HighRoad Solution
HighRoad Solution is the only digital marketing agency endorsed & used by ASAE. We combine digital & database platforms to increase revenue, member insight & efficiency. Whether you need email, marketing automation or inbound marketing, we have the subject matter and technical experts to deliver the solution you need.