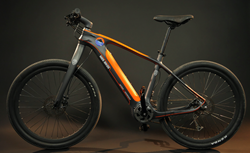 "Although some bikes have larger motors, the power to weight ratio we're able to deliver makes this bike a great all around bike perfect for commuting, fun rides and light off-road terrain."
Asheville, NC (PRWEB) June 13, 2016
The All-Go, a revolutionary new lightweight carbon fiber bike capable of tackling the toughest climbs, is currently live on Kickstarter and raising funds to bring the project to life.
Electric bikes are quickly changing the way people think about cycling. No longer do hills and tough climbs have to stand in the way between users and their destination. As much fun as most of the electric bikes currently on the market can be, they are often very heavy, which makes carrying them up stairs, loading them onto a bike rack or pedaling them home once the battery dies not a whole lot of fun for anyone. The All-Go Bike is set to change the game with their versatile and lightweight model that can go anywhere.
"I've been an avid mountain biker for over 15 years now and have been riding bikes to get to where I want to go since I was just a kid. There's something special about the freedom that bikes provide that you just don't get in a car, in my opinion," says founder Robert Crews, "Riding a bike is one of the most fun ways to get around most of the time, but as soon as you hit a steep hill on a warm day a fun ride can instantly turn into an unexpected workout. The electric bike changes that, and while there are some great bikes on the market, a lot of them are heavy or very expensive. We aim to change that by providing a lightweight and stylish design with a bike that's a blast to ride in large part because of the lightweight and powerful motor."
At just 33 pounds including the battery, the All-Go is an electric bike that feels and rides like a normal bike and allows riders to easily switch between pedal assist modes to take advantage of a powerful mid drive motor that produces up to 600 watts of peak power to give an extra boost to make climbing hills easier than ever before. On the flats, riders can choose to take advantage of extra power to battle headwinds or maintain speeds of up to 28 m.p.h. with ease, or with the push of a button, switch to pedal-only mode and maximize ride time while enjoying the lightweight efficiency and the effective 27-speed drive-train.
One of the key features of the All-Go bike is the revolutionary mid drive motor that allows the power to be applied where need it most: the pedals. The centered weight and ability to deliver over 600 watts of peak power keep this bike feeling agile and fun on all types of terrain. In addition, the included lightweight, but long-lasting Lithium Ion provides around 30 miles of pedal assist power. The 36 volt, 8.7 amp hour battery features Samsung cells and is backed by a one year warranty and will deliver over 800 battery cycles.
"The lightweight design that we were able to achieve with the carbon fiber frame combined with the mid-drive motor solution that delivers power to the pedals makes for a very well-balanced bike that is really fun to ride and can out-perform most other electric bikes in large part because of its weight," adds Crews, "Although some bikes have larger motors, the power to weight ratio we're able to deliver makes this bike a great all around bike perfect for commuting, fun rides and light off-road terrain."
The M2S All-Go Electric Carbon Bike is currently live and available to support on Kickstarter: http://kck.st/1UaPT77
About M2 Bikes
M2S Bikes (Mountains to Sea Bikes) was founded in 2014 with the express goal of bringing innovative electric bikes to the market. Our first offering is the All-Go, a carbon fiber electric bike ideally suited for all around fun. Additional models are currently in the works and are expected to launch in Fall 2016.
For more information on M2 Bikes please visit http://m2sbikes.com
###