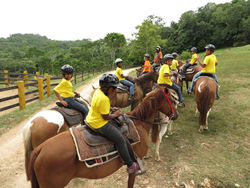 We've seen what a commitment to green practices and environmental sustainability can do
San Ignacio, Belize (PRWEB) June 15, 2016
Once again, 24 budding young environmentalists are looking forward to attending an innovative, weeklong educational summer camp in the jungles of western Belize. And, according to The Lodge at Chaa Creek, sponsors of the annual "Eco-Kids Summer Camp", the quality and quantity of this year's applications continue to show how deeply young Belizeans care about their environment.
Chaa Creek owners Mick and Lucy Fleming said the innovative annual event gives Belizean youth an opportunity to learn about their natural world and cultural heritage through a mix of adventure, social interaction, fun and hands-on education aimed at "instilling a sense of wonder and responsibility for the environment".
"We've always believed that education is an important part of ecotourism, and that inspiring and encouraging today's young people to become active in environmental issues translates into a better future," Ms Fleming said during the June 15th announcement of this year's eco-kids participants.
"Belize, the region and indeed the world will be facing a number of environmental challenges in the years to come, and investing in our young people is the best way to prepare for and meet those challenges," she added.
This year, from the 17th to the 24th of July, Chaa Creek will again host twenty-four Belizean students between the ages of nine and twelve at the eco-resort's Macal River Camp to learn about biodiversity, conservation, the ancient Maya, sustainable agriculture and other subjects through participation in structured learning activities, games, and teambuilding exercises; all designed to foster an awareness of Belize's natural world and the need to protect it.
With activities such as guided horseback expeditions along jungle trails to study Belize's flora and fauna and Maya medicinal plants, hikes to ancient Maya sites to assist in archaeological excavations, hands-on sustainable organic farming techniques at the onsite traditional Maya organic farm, and other learning adventures, as well as supervised water games, song writing sessions and talent shows, Ms Fleming said Chaa Creek hopes to assist young people in becoming effective and confident "environmental ambassadors".
"If, year after year, twenty-four enthusiastic young people return to their families, friends and schools with a deeper appreciation of Belize's natural world and cultural history and are eager to talk about environmental issues, we consider that to be a very worthwhile investment with long lasting benefits."
During the week, Chaa Creek provides bungalow accommodation in the camp's pristine rainforest setting, healthy breakfasts, lunches, dinners and snacks, arts and craft materials, tee shirts, 24-hour camp counsellor supervision, and guided nature excursions and activities conducted by the eco-resort's licensed naturalist guides.
"We've found that being immersed in nature and having fun with a mixture of games and structured activities is the best way for kids that age to learn. Our councillors, staff and guides all have a genuine love for what they're doing, and communicating that creates an atmosphere in which young students flourish.
Ms Fleming, a former teacher, said she thanks the educators, staff members, parents and others who continue to put time and effort into the Eco-Kids camp and numerous other projects under the eco-resort's Chaa Creek Cares initiative, which sees ten per cent of all room rate going directly into environmental and social projects.
"It's quite an undertaking to stimulate, educate, entertain, feed and control twenty-four kids in a jungle setting, but just seeing the look on their faces during the week makes it all worth it. And the results speak for themselves," she said.
As do the children, such as former Eco Kid, 11-year-old Kieva, who wrote, "As a kid I would want to help save our environment but I can't do it alone. It takes more than one person but it starts with me. I will be eco friendly to help save the planet and so I could live in a greener and safer world."
Thirteen-year-old Erick said, "I believe that it needs lots of teamwork, acts of kindness and the right attitude to continue the work in rescuing our earth, our home. I feel we need to take care of this beautiful country our ancestors the Mayas left. I want to be among kids who are not afraid like me to continue working towards a cleaner environment, preserving wildlife and fresh air and oxygen to breathe."
Brianni, eleven, said "I wish to come back from such an experience and share my new knowledge and ideas with family and friends around me about saving the earth."
Thirteen-year-old Jayronn mentioned his newfound maturity as a factor, "As a small boy, I did not understand nature. Now that I have grown older, I understand that it is a life. It grows, lives and can die. It has feelings also!"
Ms Fleming said children with that kind of enthusiasm who are given the tools to utilise their energy and creativity represent the best form of environmental protection.
"We've seen what a commitment to green practices and environmental sustainability can do. In many ways, Belize is a living example of green development and responsible travel. When you consider the ripple effect of twenty four enthusiastic kids talking to their friends and family, and putting the things they learn here in practice, you understand why we consider eco-kids a very sound investment in the future.
"To be honest, it's also a lot of fun, and something we look forward to each year," Ms Fleming added.
Ms Fleming said further information about the Eco Kids Summer Camp can be found on the Chaa Creek website and Travel Blog.
The Lodge at Chaa Creek is a multi award winning eco resort set within a 400-acre private nature reserve along the banks of the Macal River in Belize.
ENDS