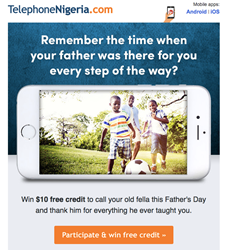 I highly recommend Telephone Nigeria for their fantastic and prompt service. So easy for me to recharge my friends phone and make calls from here in Australia..Have been using them for a few years now and have never had a problem. (Marion Turner)
Atlanta, Georgia (PRWEB) June 14, 2016
Nigerians worldwide are invited to join the Father's Day celebration on the Facebook page powered by TelephoneNigeria.com, and win $10 Voice Credit. The prize brings 256 free lifetime minutes to call Nigeria. The Facebook contest starts on June 14, 2016, and addresses all Nigerians interested to celebrate their dads and get some calling credit for their calls home to Nigeria. What they will need to do is share a lesson they have learned from their fathers in a comment: https://www.facebook.com/TelephoneNigeria/?fref=nf
To enter the contest before Father's Day, one needs to leave a comment on June 14 or June 15, 2016, related to the video post. The prize will bring someone 256 gift minutes to call Nigeria. The comment should recall "one thing learned from dad." To stay updated, one should become a fan of the page:
The winning comment will be selected randomly, using an automatic tool, and the comment's author wins $10 mobile credit to call Nigeria or any other international destination with TelephoneNigeria.com. The gift balance includes 256 minutes to call landlines and mobiles. The best part is that besides the high volume of gift minutes, the balance never expires. The winning comment will be picked randomly using an online tool.
The video that TelephoneNigeria.com will share on its Facebook community on June 14 was especially created to celebrate fathers worldwide, and expats' dads in particular. It promises to be deep and realistic. The central idea revolves around key moments that define relationships between fathers and sons, fathers and daughters. The video focuses on the positive impact all these moments ultimately have on the later adults.
To redeem the Facebook prize around Father's Day one needs to have an account on TelephoneNigeria.com. It costs nothing and comes with a number of other advantages:

There are 4 free features that can optimise a call.
Customers have direct access to calling records.
All transactions and invoices are available online.
Any transaction (Voice Credit, Monthly Plans or Mobile Recharge) brings Thank You points automatically; these points can be easily converted into calling credit once they amount to 1000.
Several payment methods are available for different types of customers: all major cards and PayPal.
The account is mobile-friendly, just like the rest of the website, so anyone can access it on the go.
Payment is welcome in any currency.
Promotions, contests and other events are available on Facebook for all fans or by email, once subscribed to the Newsletter ("Get offers" button in the footer of TelephoneNigeria.com)
The prize of the current contest helps one save money on international calls to Nigeria. The regular rate is 3.9¢/minute, which is the lowest on global scale. The rate is unique for calls to landlines and mobiles, and the country one calls from has no relevance.
For different types of users or situations, there are multiple ways to call Nigeria on TelephoneNigeria.com.
1. Calls can be placed from any phone, using access numbers, without any Internet connection.
2. Smartphone users can install KeepCalling app for free, with all the bonus features and the options of the website automatically included. The app is also available in Spanish for Android and iOS devices.
3. Web Call app is a desktop app by default in one's TelephoneNigeria.com account. It does not require downloading, and it helps one place calls from PC to any phone in the world, from the comfort of one's armchair.
Besides Voice Credit, which is a virtual calling card for long-distance calls, TelephoneNigeria.com facilitates online top ups to Nigeria. This helps Nigerian expats send mobile credit to a mobile in Nigeria pertaining to one of the following operators: MTN, Airtel, Glo, Etisalat, Visafone. Airtime to their subscribers gets to Nigeria in few minutes and makes a safe and easy-to-send gift.
Promotions and contests bring regular bonus minutes or discounts on top ups for the Nigerian diaspora. The best way to be aware of them is to follow TelephoneNigeria.com Facebook status updates and news: https://www.facebook.com/TelephoneNigeria/?fref=nf
TelephoneNigeria.com is a website dedicated to the Nigerian diaspora. The website is a brand of KeepCalling, a global telecommunications company registered in 2002 in the USA. Presently, KeepCalling provides its services to hundreds of thousands of consumers and businesses, with a focus on customer satisfaction. KeepCalling has been listed by Inc 5000 as one of the fastest growing companies in the USA for 5 consecutive years. In 2015 the company registered a revenue increase of over 200% from 2011 to 2014.