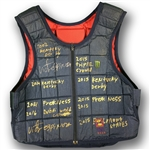 New Rochelle, NY (PRWEB) June 15, 2016
The autographed vest and helmet that jockey Victor Espinoza wore in all three 2015 Triple Crown races won by American Pharoah, a pair of Everlast boxing gloves signed (both) by the great Muhammad Ali, Mark Messier's-autographed game used NY Rangers jersey from the 911 Tribute/Ceremony game in Madison Square Garden on 10/7/01 and a game used bat signed by Baseball Hall of Famer Mike Piazza are among 1,700 items currently available in the "Spring Fever Auction" hosted by Steiner Sports Marketing, Inc. from now through June 26, 2016, at 10 pm ET.
To participate in the auction, visit auction.steinersports.com. At that site, you will be able to register to participate in the auction, read up on the rules and blog, view photos of all the auction items, see all current bids and make your own and follow the auction results. All winning items come with a letter of authenticity.
"This is one of the largest, most diverse and most exciting on-line auctions we have ever had at Steiner Sports,' stated Brandon Steiner, the company's Founder & CEO. "It features items ranging from sports and entertainment to Presidential memorabilia and framed sports art and photography. We have unique, one of a kind and limited edition pieces that you just can't find anywhere else that are guaranteed to be of interest to anyone who has a passion for collectibles of all types. In addition, most of these pieces are beautifully autographed."
In addition to many other horse racing, boxing, ice hockey and baseball items such as the ones above, the Spring Fever auction also includes pieces from football, basketball, tennis, soccer and golf.
# # #
For questions from the media or to request an interview with a Steiner Sports executive, please contact Ira H. Silverman at irahsilverman(at)gmail(dot)com.
For direct questions about the auction items, rules and other such matters, contact Barry Valentino at bvalentino(at)steinersports(dot)com.