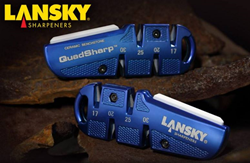 Buffalo, NY (PRWEB) June 13, 2016
Lansky Sharpeners has the perfect option for anyone looking for an affordable gift for Father's Day this year. Whether a father is a hunter, a chef, an outdoor enthusiast, or just a child's personal hero, here are a few gifts that will show him that he's appreciated, without breaking the bank.
The QuadSharp
For originality, the QuadSharp is the gift to give. Featuring the same four angles as the Lansky Controlled-Angle System, along with a built-in ceramic polishing benchstone, the QuadSharp is the perfect portable sharpening accessory. This is the smallest, most versatile multi-angle sharpener available ($18.99).
The Universal Knife Sharpening System
This precision knife-sharpening kit is perfect for expert and first-time users alike. It includes coarse (120 grit), medium (280 grit) and fine hones (600 grit), along with a medium triangle shaped hone for serrated knife sharpening. Guide rods, a precision-engineered, multi-angle knife clamp, and easy-to-follow instructions are included. Help Dad give his blade a razor-sharp edge every time ($44.99).
The Madrock World Legal
The Madrock World Legal is a simple but efficient knife that balances form with function and combines modern aesthetics with traditional slip-joint technology. With a 6.75" overall length and a 2.75" 9Cr18MoV Stainless Blade, the Madrock World Legal can be carried legally in 156 countries.* It has a 2-position deep pocket clip for tip-up or tip-down carry, and a comfortable nylon handle ($29.99).
*Contact your local government for the most recent knife carry regulations
How To Get Free Shipping
It's simple. Just start shopping on http://www.lansky.com. Once the shopping cart is filled with $25 or more worth of items, click the button to proceed to the checkout and reach a page requesting for a special offer code.
Enter this code: ForDad16
Hit the next button and it's done! The order will be processed and shipped via UPS Ground within 72 hours.
This offer is good through June 19 and is available only in the continental U.S.
Start shopping online today to find the perfect gift and save money!
About the company:
Lansky Sharpeners is the most recognized name in knife-sharpening systems worldwide. In addition to their legendary Controlled Angle Sharpening System, they continue to develop new sharpening technologies and innovations for hunting, outdoor sports, kitchen use, as well as the workshop. Their product line includes everything from a knife sharpener to a pocket knife sharpener. Visit their online store to view their ever-expanding line of great sharpening products. For more information, visit their website at http://www.lansky.com.