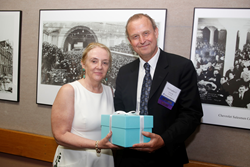 Bronx, NY (PRWEB) June 13, 2016
Calvary Hospital was among more than two dozen sponsors of the Collaborative for Palliative Care's 7th Annual Interdisciplinary and Interfaith Conference which took place earlier this week at the Westchester County Center, White Plains, N.Y. This event is sponsored and organized by the Collaborative for Palliative Care, a broad-based alliance of over 50 public and private organizations including hospitals, universities, hospices, home care organizations and much more. Key presenters included Joseph J. Fins, MD, M.A.C.P, Weil Cornell Medical College; Michael Frankenthaler, MD, FACP, Westchester Medical Center; and Mark Freeman, Ph.D., College of the Holy Cross.
At the conference, Mary Beth Morrissey, Ph.D., MPH, JD, founder and chair of the Collaborative for Palliative Care, and past recipient Barney Newman, MD, presented Calvary with the Dr. Mary Ann Quaranta Distinguished Leadership Award. This award recognizes Calvary's leadership in Palliative Care and its willingness to share its expertise with healthcare professionals globally.
For several years, Calvary Hospital has been a proud sponsor of this annual event. This year's conference attracted over 300 people who wanted to advance their understanding of -- and share their expertise in -- Palliative Care.
Calvary's presenters this year included: Christopher P. Comfort, MD, Medical Doctor; Candace Abdoo, Outreach; and Rev. Carlos Alejandro, Pastoral Care. They participated in a Roundtable Discussion on "The Integration of Palliative Care from Hospital to Community Settings," and workshops on "A Public Policy Analysis on Aid in Dying in New York," "Symptom Management," and "Cultural Competence in Palliative Care."
About the Company:
For more than a century, Calvary Hospital has been the nation's only fully-accredited, acute care specialty hospital devoted exclusively to providing palliative care to adult patients with advanced cancer and other life-limiting illnesses. More than 5,800 patients are cared for annually by Calvary's inpatient, outpatient, home care, hospice, and wound care services. Inpatient care is offered at our 200-bed facility in the Bronx and our 25-bed Brooklyn Satellite at Lutheran Medical Center. Calvary Hospice provides short-term inpatient care at The Dawn Greene Hospice, located at Mary Manning Walsh Home in Manhattan. To learn more or sign up for the e-newsletter, Calvary Life, please go to http://www.calvaryhospital.org.