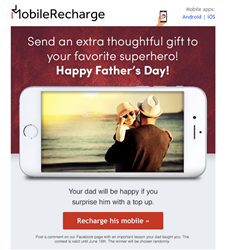 Best service. Quick easy and fast delivery. (Saher Azzam)
Atlanta, Georgia (PRWEB) June 14, 2016
Expats worldwide are welcome to join the expat community on MobileRecharge.com and celebrate International Fathers Day, between June 14-16. The MobileRecharge.com team has created a video about the son/daughter - father relationship and launches a contest that will bring someone a special prize of $10 mobile credit as a top up. The top up can be used by our customers as an international mobile credit transfer to their father abroad. In order to watch the movie and enter the Facebook contest, customers are invited on the Facebook page mentioned below: https://www.facebook.com/MobileRecharge.Fan/
The contest starts on June 14 and lasts until June 16, 2016, when the winner is announced. The competition is in fact a jam session of comments about the positive impact of dads in someone's life, and will follow the video created by MobileRecharge.com team for expats worldwide. Comments should not include theories, but real personal comments that answer the question: "What did you learn from your dad?"
The winner of the $10 mobile credit top up will be selected randomly, using a specialised online tool. He or she will be announced on June 16 on the expat Facebook page that will host both the expat video and the prize contest.
New users on MobileRecharge.com have now the chance to try the international top up service for free. The only thing one needs to do to join the contest is to post a comment on June 14 or June 15 about a lesson their father taught them. A personal phrase is enough to bring someone $10 credit ready to send as a gift. Also, one needs to have a free account on MobileRecharge.com to be able to use the prize.
Fans and existing customers of MobileRecharge.com have now the opportunity to save money on their regular mobile refills. This time the prize is a 100% discount, which makes it a good deal.
Promotions are frequent on MobileRecharge.com. Daily deals are published on the Promotions page on the website, as well as on MobileRecharge app. The account on MobileRecharge.com also comes with a number of other advantages:

All transactions and invoices are available in a special section in chronological order.
Promotions page centralises daily deals.
One can be notified on email about offers.
Several payment methods are available for different types of customers: all major cards as well as PayPal.
The account is mobile-friendly, just like the rest of the website, so anyone can access it on the go.
Payment is welcome in any currency.
The account is available in several languages.
Safety is certified by the labels present on the website: "Verified & certified", Trustee, etc.
The website is available in several languages: English, Spanish, German, French and Italian.
All fans meet on Facebook, G+ and Twitter to stay updated with promotions, contests or other events.
Customer Service is seen as highly supportive; it is available 24/7 in both Spanish and English, and other international languages.
Both the MobileRecharge app and the website allow experienced and inexperienced users to make a top up the easiest way possible.
Video tutorials are available on YouTube and the website to support expats worldwide: https://www.youtube.com/MobileRecharge
MobileRecharge.com serves people who left their motherland and moved in a new country for a better life, as well as travellers or professionals who live abroad temporarily. Just to have an idea, there are 50.5 million expats worldwide according to several reports, and the figure is expected to reach 56.8 million by 2017, which is 0.77 percent of the total global population.
MobileRecharge.com is an interactive website designed by KeepCalling, a global telecommunications company registered in 2002 in the USA. Presently, KeepCalling provides its services to hundreds of thousands of consumers and businesses, with a focus on customer satisfaction. KeepCalling has been listed by Inc 5000 as one of the fastest growing companies in the USA for 5 consecutive years. In 2015 the company registered a revenue increase of over 200% from 2011 to 2014.