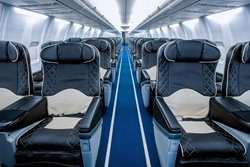 Now through the end of August, Private Jet Services is offering VIP and high density-configured B737-800 aircraft starting at special rate of $7000/hour
(PRWEB) June 16, 2016
The summer travel season is here, and more groups are choosing the B737-800 than any other aircraft to satisfy their transportation needs. Why? Because of its size, range, and versatility to fit any group travel itinerary. Now through end of August, Private Jet Services is offering a special rate on VIP and high density- configured B737-800 aircraft. Featured on board both aircraft are:

gogo ATG-8000 WiFi
VIP trained in-flight service
Two hot galleys for gourmet meal and beverage service
PJS signature flight concierge
The VIP- configured B737-800 offers extra amenities to appeal to discerning clients, including:

VIP Premium seating arrangements allowing for superior legroom
Bentley hand-stitched seating
Easily accessible electrical outlets
LED mood lighting
Club seating with fiberglass tables
The aircraft has an NBAA range of 6+ hours, meaning non-stop coast to coast trips are a breeze and has the ability to leave from any FBO, avoiding traditional terminal traffic and chaos. With seating configurations ranging from 76 VIP-configured to 150 coach- configured, the B737 is perfect for moving large groups including company incentives and meetings, sports teams, large parties, corporate shuttles, government trips and live entertainment touring. With immediate availability and rates starting at $7000/hour inclusive except for taxes and airport fees, consider using the B737-800 for your next group trip. For a highly competitive quotation, contact Private Jet Services
PJS acts as agents for its clients in negotiating and facilitating transportation with licensed air carriers. PJS does not own or operate aircraft.