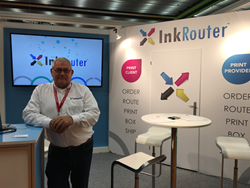 One of the largest fairs in the world brought us in contact with leaders in the printing industry.
Las Vegas, Nevada (PRWEB) June 17, 2016
Ink Router, a bi-directional API technology that facilitates the work between print sellers and trade printers, concluded an 11-day exhibition at drupa on a high note. The No. 1 global trade fair for the print and media industries was held May 31 to June 10 in Dusseldorf, Germany.
Drupa officials reported 260,000 print industry professionals from nearly 200 countries in attendance at the 2016 edition. According to Robert Godwin, director of business development, Ink Router, introducing the API technology at drupa expanded its reach to a global market.
"Our first time exhibiting at drupa was a great success. It made it possible to introduce our dynamic new product, InkRouter, to visitors from all over the world," he said. "One of the largest fairs in the world brought us in contact with leaders in the printing industry, which offered us the opportunity to network and to create more brand awareness and brand recognition."
Ink Router uses algorithmic adaptive intelligence to match orders to producers based on JDF/CIP4 standards. As the premiere and leading bi-directional API for the buying and selling of print on the market, Ink Router's advanced application was well-suited for the show's shift toward forward-looking innovations.
With an emphasis this year toward future growth areas, drupa is helping to progress both businesses and business models in commercial printing.
"The print industry is constantly re-inventing itself and offers a wealth of high-potential facets. And this is precisely what drupa 2016 has very impressively proven," explained Claus Bolza-Schünemann, Chairman of the drupa Committee and Chairman of the Board at Koenig & Bauer AG. "We were able to experience a highly innovative industry here in the 19 exhibition halls, one that has succeeded in moving out of the 'valley of tears' and grasping the future by the neck."
Showcased at drupa innovation parc (DIP), Ink Router is offered as a standalone service or an integration that is compatible with major MIS systems and website platforms. Currently available at no charge to print resellers, print buyers, brokers and trade printers, the core service component provides access to a continually growing network of print providers.
Following the overall success of this year's show, officials plan on exhibiting at the next drupa.
"Sabine Geldermann, global director of drupa and the Messe Düsseldorf team, did a great job," Godwin noted. "Ink Router was glad to be part of this event. drupa 2016 has exceeded expectations, and we are already looking forward to the next edition!"
Continuing its four-year cycle, the 2020 edition of drupa is scheduled for June 23 to July 3.