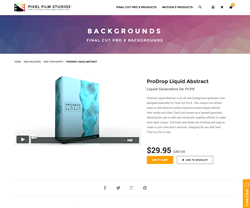 "ProDrop Liquid Abstract is a unique tool that allows users to add abstract artistic liquid animated shapes behind any titles or media
Aliso Viejo, California (PRWEB) June 14, 2016
Pixel Film Studios Released ProDrop Liquid Abstract, a Liquid Generator Plugin for FCPX
"ProDrop Liquid Abstract is a unique tool that allows users to add abstract artistic liquid animated shapes behind any titles or media," said Christina Austin - CEO of Pixel Film Studios.
ProDrop Liquid Abstract includes 5 different background tools for FCPX editors to begin with. FCPX users can flip, spin, and rotate each background option, making each individual preset unique. Change the colors, reflection levels and more.
ProDrop Liquid Abstract includes a simple yet unique compositing title tool. Editors can simply place the title on top of the generator on the timeline, and adjust blurs, prism effects, and lens flares.
ProDrop Liquid Abstract allows users to adjust each layer of the generator individually or as an entire group. Adjust Lighting, Shadows, Reflections, and more with just a few mouse clicks.
ProDrop Liquid Abstract is a background Generator Tool designed for Final Cut Pro X. FCPX users simply place the desired generator on the timeline and begin the editing process. The included compositing title tool can be placed on the top for even more added stylistic effects.
Established in 2006, Aliso Viejo, California-based Pixel Film Studios is an innovative developer of visual effects tools for the post-production and broadcast community. Their products are integrated with popular non-linear editing and compositing products from Apple FCPX. Apple, the Apple logo, Mac OS X, and Macintosh are registered trademarks of Apple Inc. in the U.S. and/or other countries. All other trademarks and trade names are the property of their respective owners.