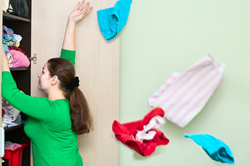 Elkridge, Maryland (PRWEB) June 13, 2016
With summer just a few days away, Planet Aid is reminding everyone that there is still time to finish up neglected spring cleaning projects. To offer added encouragement, Planet Aid has released an updated online Spring Cleaning Guide that includes advice on a wide range of topics, from "Eco-Friendly Spring Cleaning Tips" to the seemingly incongruous "How to Avoid Spring Cleaning." There are also interesting tidbits from the organization's infographic, "The Truth About Spring Cleaning."
Planet Aid's environmental mission is primarily focused on collecting textiles and other unwanted items to reduce unnecessary waste and better utilize existing resources. The annual rite of spring cleaning can produce a wide variety of household and larger environmental impacts, including a surge in municipal waste and landfill disposal. The Planet Aid guide is intended to help mitigate those impacts. The Planet Aid Spring Cleaning Guide is a compendium of accumulated information and advice that the organization has gathered over the years.
"We want to help people tidy up and offer guidance in how to do so with the least environmental impact," said Planet Aid President Ester Neltrup.
Here is the complete list of topics from the guide:

Eco-Friendly Spring Cleaning Tips (infographic)
The Truth About Spring Cleaning
Eco Spring Fashion Finds
Tips and Tricks for Getting Kids to Clean
10 Eco-Friendly Spring Cleaning Ideas
Ideas for Reducing Clothing Clutter at Home
Spring Cleaning Checklist (PDF download)
Watch Out for Wildlife: Spring Cleaning Tips from the Humane Society
What Can You Recycle in the Big Blue Bin?
10 Tips for an Extreme Clean
How to Avoid Spring Cleaning
Items You Didn't Know You Could Recycle
About Planet Aid
Planet Aid is a U.S. 501 (c)(3) nonprofit and is registered with USAID as a private voluntary organization. Accredited by the Better Business Bureau's Wise Giving Alliance, Planet Aid collects and recycles used clothing and shoes as part of its environmental mission. The net proceeds from its 21-state recycling operation help to support projects aimed at eliminating poverty. Since its inception in 1997, Planet Aid has provided more than $100 million to support projects on three continents. Planet Aid supports programs in education, teacher training, nutrition and agricultural and economic development.